The Signal Exclusive: Director Dishes Magnificent Mind-Bending Movie!
by Joel D Amos at . Updated at . Comments
William Eubank has hit a home run with the sci-fi thriller The Signal. We got to talk to Eubank about the mind-blowing flick about a group of young twenty-somethings (including Brenton Thwaites and The Quiet Ones star Olivia Cooke) who are aggressively following a signal they are receiving on the computer and phones that is leading them out into the desert in Nevada.
What happens next… well, just see the movie.  Let's just say they run into Laurence Fishburne and everything is far from what it seems.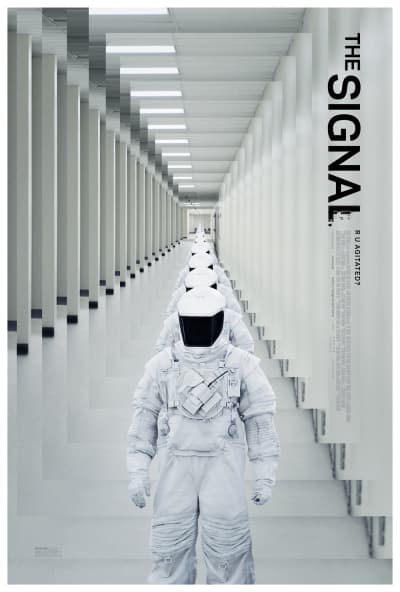 "It's been a crazy ride that is for sure," Eubank said in our exclusive phone interview of the entire The Signal experience. The film opens June 13 and is one don't-miss movie!
Movie Fanatic: Where on Earth did this idea come from? And at the same time as you are starting to talk about it to the press, how do you talk about it because it seems like anything you say can be a spoiler?!
William Eubank: That is the question! Basically, I wanted to make a movie that kind of gets in the idea of Area 51 and I put the audience through all this stuff and the Area 51 stuff is kind of like a left hook. You don't take all the preconceptions about Area 51 and some of those things are at the start of the film. You arrive at it somewhere else at the film, and as an audience member, you can go, "That could be the explanation that I'm looking for."
Movie Fanatic: We also have a star in the making here with Brenton (Thwaites). What was it about him that he was your guy?
William Eubank: Here's the thing. I feel like as a director, your first job is to cast well. The second job is to manage all the trees in the forest and make sure the performances are tracked with where we are in the context of the entire film, but not to manage a performance. What it is about Brenton is he's such a talented actor, I'm not thinking about any of that. The whole cast was so talented, but they're really good people and being good people go so far, especially when they're playing characters that you want the audience to think of as good people.
Movie Fanatic: Did you have to pinch yourself when Laurence Fishburne said yes?
William Eubank: That was so awesome to get that call that he was interested. He read the script and just loved it. He told me he couldn't put the script down. He didn't know anything about me or anything. And to watch him do his thing and to imagine that that was who we always wanted for this character through Laurence's ability, it feels really good, man, I'll tell you that. That was the most satisfying experience, ever. Brenton and Olivia and I, we're just finding our way. To have someone like Laurence -- who is so accomplished -- there setting a standard, sure makes us feel that what we are working on is legitimate.
Movie Fanatic: There is so much that is mind blowing in terms of storytelling and the look of The Signal. What was the one thing in this movie that you achieved that decades from now, you'll still be giving yourself a fist bump for?
William Eubank: My brother (Carlyle, who is also a co-writer) and I built these trampoline-type things with the idea of it working for a real practical effect, and this one day, the wind was so gnarly and a sand storm came up that I cannot even tell how you crazy it was. We couldn't shoot! We had a one-hour window at the end of the day where the sun came through the sandstorm and we were able to get the shot. It was such a crazy moment. We got it done. I never thought it was going to work, and that moment, I will never forget. 
Since the film has Fishburne, and kind of reminds us of another one of his greats... watch The Matrix online and you'll see what we mean when you witness The Signal on the big screen!