The best way to prepare our readers for the thunderous shock to the system that is The Signal is for us to not reveal anything more than the bare necessities.
As teased in The Signal trailer, Nic (Brenton Thwaites), Haley (Olivia Cooke) and Jonah (Beau Knapp) are driving cross country to take Haley where she sadly needs to go and that is away from her boyfriend Nic. He is none too happy about her relocation. Along the way, they keep getting this electronic signal and it has got Nic and Jonah utterly transfixed -- and aggravated. Every time it comes through, they hook up their computers and try to find the source.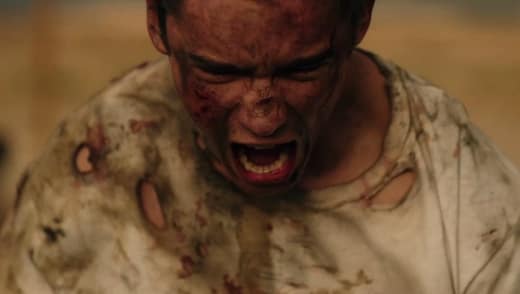 As they drive through the American Southwest, The Signal gets stronger. Although Haley is not thrilled, she agrees to let her boyfriend and his BFF take them a little off their planned route to find it. That was not necessarily their best idea ever.
Director William Eubank has truly revealed himself as a true talent with the arrival of The Signal. He co-wrote the film with his brother Carlyle and David Frigerio, and their story is like an electric onion. As each layer gets peeled away, you get shocked and yet the draw to keep peeling is insatiable. It is a master class in storytelling meets having a director who keenly knows his vision.
That could also explain the presence of a film veteran like Laurence Fishburne. The man must have been impressed as soon as he read the script.
You won't hear much about his role from us, but just know that he is about as simultaneously calmly comforting and terrifying as a human being can get. We should not be surprised by the performance of the Oscar nominee, but the thing about his turn in The Signal is that we can never truly figure him out. That is until the film's final reveal -- which we have to say, came out of left field in the most believable and jaw-dropping of ways.
Thwaites, Cooke and Knapp are a compelling trio. But, it is Thwaites who explodes off the screen. He is a bottle of human traits that are a mix of hope, regret, inquisitiveness, love and loss that is not an easy card to play for any actor. Yet, he nails it. And Cooke continues her strong year (after seeing Cooke in The Quiet Ones she is clearly one to watch).  
Our The Signal review has to let the world know that the film is an announcement of the talent of filmmaker Eubank. We look forward to more from him and hope that The Signal is simply the beginning of his fine frequency for filmmaking.