They Came Together Review: Paul Rudd & Amy Poehler Lampoon Rom-Coms
by Joel D Amos at . Updated at . Comments
If you are going to make a Scary Movie-like film that parodies romantic comedies like the Wayans family made fun of horror movies, who better to lead the way than Amy Poehler and Paul Rudd?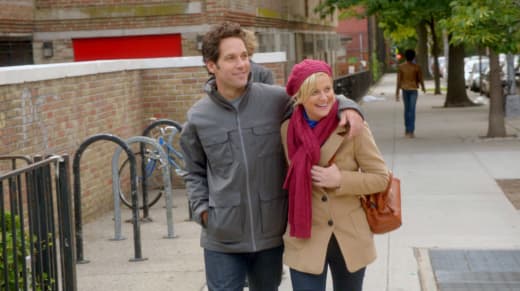 In They Came Together, the two are a dynamic duo of trashing a beloved -- yet tired -- film genre. Rudd and Poehler star as a pair of mismatched fools who find love in spite of themselves, and they utilize every cliché in the book on the way to truly making us laugh with their "love story."
The film makes fun of a slew of classics, including You've Got Mail with its mom and pop store owner/plucky blonde (Poehler) falling for the corporate suit guy (Rudd), who is the real reason she's going out of business. Oh, and we cannot leave out the part where Poehler goes to town a la Meg Ryan in When Harry Met Sally when she and Rudd are out on their first date. You've never heard anyone place an order at a coffee shop like Poehler in They Came Together.
There's even the cliché of each having previous significant others before they met each other that ended in disaster. Each has lived through the horrible break-up scarred, but with life lessons -- just as everyone in a rom-com has, of course. The film has fun with all the "subtle" hints that not just rom-coms leave throughout, but poorly written movies do in general. "Discovering this information is a huge turn of events," Poehler's character even says with the straightest of faces at one point.
Directed by David Wain, the helmer even has the comedic guts to hit a joke on the head… and then promptly hit that repeatedly ad nauseum. And believe it or not, it gets funnier each time. 
The entire tale is told as Poehler and Rudd are having dinner reflecting back and telling their "how did you guys meet" story to Ellie Kemper and Bill Hader. Those two are just the beginning of the supporting cast that is game for this type of farce. Jack McBrayer, Kenan Thompson, Ed Helms, Melanie Lynskey and Jason Mantzoukas all shine. It even allows the normally dramatic Christopher Meloni to show his humorous side -- as teased in the They Came Together trailer!
The thing about this film, our They Came Together review can say, is that this is a parody that firmly knows what it is and doesn't try to exert one note more than is necessary. Its 83-minute running time is physical proof of that. But, even more so is how the film doesn't take itself too seriously, as some parodies are guilty of doing. It just charges until it's done, and then it's done.