Third Person Exclusive: Mila Kunis on "Always" Working with James Franco
by Joel D Amos at . Updated at . Comments
Third Person is the fourth film that Mila Kunis has starred in with James Franco. Recently she played a certain witch to his Oz in Oz: The Great and Powerful, and now she plays his wife in Paul Haggis' latest, Third Person.
As teased in the Third Person trailer, the film follows three couples (including Liam Neeson and Olivia Wilde) and finds them in varying stages of love and out of love.
We caught up with Kunis for an exclusive video interview where she not only talked about the fabulousness of Franco, but also her longtime dream of appearing in a film from the man who wrote and directed the Oscar-winning Crash. "I don't think James and I will ever stop working together," Kunis admitted.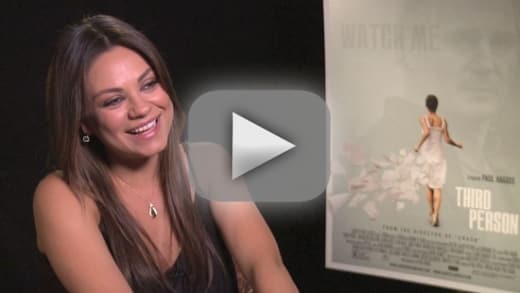 Kunis also let us know what it is like to have Seth MacFarlane turn her name into the Native American phrase for "Thank you" in A Million Ways to Die in the West. 
Now, she tells Movie Fanatic that she's hearing it in airports and it's all because she couldn't do the Ted follow-up!
Speaking of that awesome flick, watch Ted online and witness Kunis' magic! And don't miss her in Third Person.