Transformers Age of Extinction Review: Bombastic Blockbuster
by Joel D Amos at . Updated at . Comments
Everything feels enormous in Transformers: Age of Extinction. And yes, we know that's how it's supposed to be with the Michael Bay franchise that began in 2007. But, there is something truly gargantuan about this fourth Transformers movie. Bay has some new toys, and he was all too excited to bring them out to play.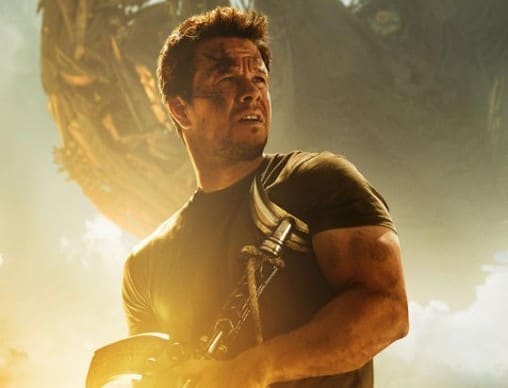 Bay shot much of the film with IMAX cameras and he finally has a canvas to fill as big as his dreams. And speaking of new, a fresh cast has freed the filmmaker from the baggage of the first three films and has injected this filmmaking anew with a sense of wonder. But, is that a good thing?
Mark Wahlberg stars as a rural Texan, Cade Yeager. He is trying to make it while raising his daughter solo since his wife passed away. How long ago did she die? We don't find out. But, we digress. This is a Transformers movie, we don't need plot explanation!
He and his work partner Lucas (TJ Miller) are fix-it men, and that kind of pays the bills. Cade's true dreams involve invention. That leads him to be just the right guy to find an abandoned truck in a movie house that he's been hired to bring back. As you saw in that Transformers: Age of Extinction trailer -- the truck is Optimus Prime.
All you really need to know, in terms of the threat, is established through the introduction of Kelsey Grammer's black op government agent Harold Attinger. He's leading an effort to rid the world of all Transformers, good and bad, after the attack on Chicago in Transformers: Dark of the Moon.
Worlds collide and Cade and his daughter Tessa (Nicola Peltz, looking very Bay-ish with how she is made up, dressed and even lit) get swept into a global struggle against evil that takes them from Texas to Hong Kong.
Everything about the film seems like it's made without concern to the rules of time and place. And yes, in terms of plot, it is all over the place and often seems like it was written by a child who had a budget to make a movie worth hundreds of millions. Tons of those millions were given from China. There's even a slew of obvious product placements, with one featuring Stanley Tucci drinking a popular Chinese beverage.
And that's just it. Bay doesn't know how to quit on any level. Transformers: Age of Extinction brings the action with car chases, helicopters and alien ships, plus Chicago even takes another beating.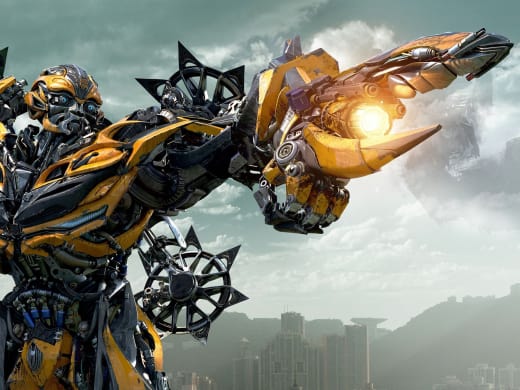 But, when we're talking about these movies, isn't that exactly how it should be?
The entire Transformers franchise has been baffling to try and figure out. They're toys. They're aliens. And they are being wielded on the big screen by a helmer whose vision knows no bounds. And in the end, our Transformers: Age of Extinction review finds that's why the series has been so successful.
Critics don't get it. Millions of audience members do, and that is exactly who these movies are for. And in that vein, those fans of this series will be thrilled on several fronts. As we stated, things are never bigger (heck, we even get Transformers riding Dinobots into battle and just trashing Hong Kong).
Even the cast knows what movie they're in and never pretend to be doing anything else. That's why the casting of Wahlberg is perfect. He can pull off a larger-than-life action movie and deliver lines that would have audiences scoffing at them from anyone else.
Is he Arnold Schwarzenegger-esque? Kind of, but Wahlberg has something more. By pairing himself with a director whose scope is as large as the universe itself, the two have a pretty good time -- and so too will those who enjoy being bombarded by a bombastic blockbuster. 
See how this whole franchise got started and watch Transformers online.