Winter's Tale DVD Review: Colin Farrell's Frozen Love Story
by Joel D Amos at . Updated at . Comments
Winter's Tale arrived on Valentine's Day in cinemas starring Colin Farrell as a lovestruck bloke and Russell Crowe as the villain who will stop at nothing to get him.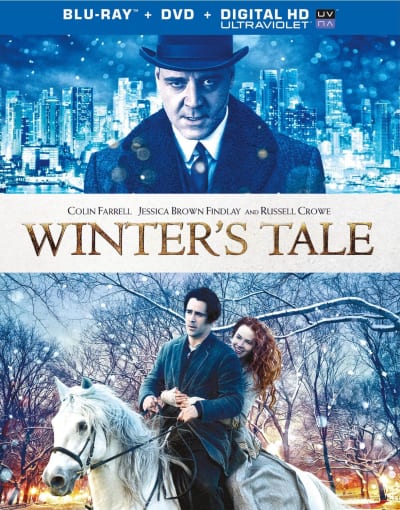 Why, you ask? For fans of the bestselling novel by Mark Helprin, they know the reason. For those of you who missed the theatrical release, you can find out now because Winter's Tale is out on DVD, Blu-Ray and digital download.
The film is the directorial debut of Oscar-winning writer Akiva Goldsman (who is reuniting with Crowe after penning A Beautiful Mind) and follows Farrell's Peter Lake. He's a thief who breaks into Beverly Penn's (Jessica Brown Findlay of Downton Abbey fame) home entirely unaware that she is there.
Immediately they have an attraction, as seen in the Winter's Tale trailer. But, their love is one that is star-crossed as she is dying of consumption.
There's also the fact that Lake has an unusually long life span, which makes his heartache all the more powerful. And then there's the fact that Crowe's demonic Pearly Soames is in hot pursuit of him, seeking to end his time on this planet.
In our theatrical Winter's Tale review, we stated that the film mostly misses the mark, but for fans of romance and the book, they would find the screen version satisfactory. It is unfortunately a bit all over the place and many scenes are just simply stretches on so many levels.
But, when it comes to the Winter's Tale DVD and Blu-Ray, there are a slew of bonus features that make the entire package a nice gift for fans of the romance genre.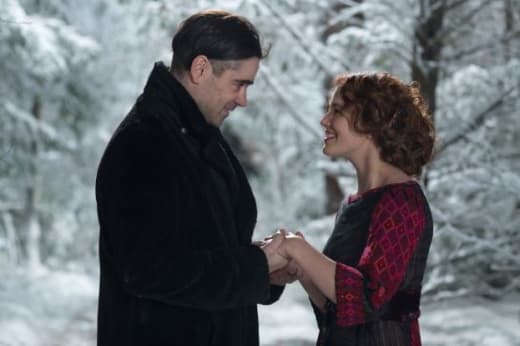 Winter's Tale: A Timeless Love takes a deeper look, and an even better one than the film itself, into the love story of Lake and Penn. Perhaps we needed the description and heartfelt feel that this bonus feature brings to have us pull for these two lovebirds to make it.
And then there's the element of good versus evil that is ever-present in the film. And there's even a cameo that seems like it's right out of left field. There again, the bonus feature Characters of Good & Evil does a better job than the film itself in exploring the notions of the light and dark sides of the worldly coin that is represented by Farrell and Crowe.
Lastly, there are some additional scenes that were cut from the film featured on the home video release that honestly, might have been inserted into the film to help it flow better. But, having them on the Winter's Tale DVD and Blu-Ray is a priceless addition to make the entire Winter's Tale experience feel more whole. 
Watch Winter's Tale online and get the whole experience, including those bonus features that bring the entire movie to life!