For their annual Comic-Con preview, Entertainment Weekly has given the honor of its cover to Avengers: Age of Ultron. Given that the film will hit theaters May 1, months before next year's Comic-Con, you can see why Marvel Studios and Disney are hitting this year's San Diego pop culture fest hard.
EW has given the film its Comic-Con preview cover and what a shot it is: We get a look at Robert Downey Jr., back as Iron Man, Chris Evans returning as Captain America (after his explosive turn in Captain America: The Winter Soldier this past spring) and our first look at the robot that will cause all the chaos, Ultron.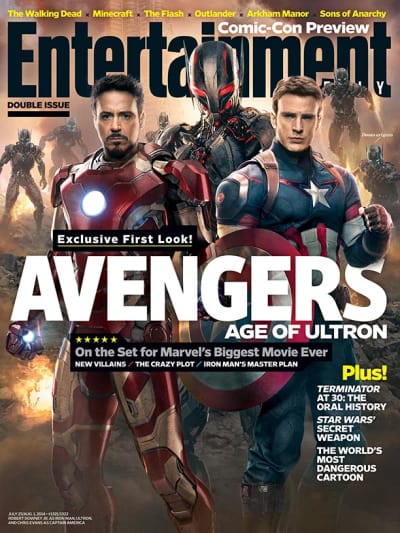 Ultron will be played by James Spader in a motion capture suit, and through the EW article, we learn from Downey that he is actually a product of Stark Industries gone horribly wrong. It seems that Stark just wants to take a break and he builds Ultron as a way of having the robot do his hero work for him. And like some of the best stories in human history, what we create comes back to haunt us.
"I think it's also about recognizing limitations. The downside of self-sacrifice is that if you make it back, you've been out there on the spit and you've been turned a couple times and you feel a little burned and traumatized," Downey told the mag.
The articles delves further:
"Ultron lacks the human touch, and his superior intellect quickly determines that life on Earth would go a lot smoother if he just got rid of Public Enemy No. 1: Human beings. Ultron sees the big picture and he goes, Okay, we need radical change, which will be violent and appalling, in order to make everything better," Whedon says, rubbing his hands together. "He's on a mission."
While we await their triumphant return, watch The Avengers online.