Avengers Age of Ultron: Scarlet Witch & Quicksilver Are "Team Ultron"
by Joel D Amos at . Updated at . Comments
We've gotten a whole lot of Avengers: Age of Ultron this week and we at Movie Fanatic could not be more thrilled. As Comic-Con nears and the cast is set to descend on San Diego and tell us and all those gathered what to expect from the sequel to The Avengers, we have an additional bit of information from Joss Whedon that is utterly fascinating.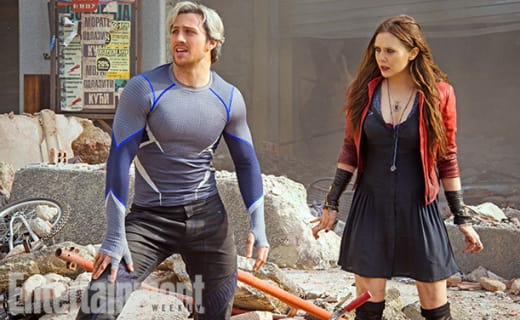 Hot off those first Avengers: Age of Ultron stills, we have news from Whedon as to where Scarlet Witch (Elizabeth Olsen) and Quicksilver (Aaron Taylor-Johnson) fit into the highly anticipated sequel that lands May 1, 2015.
"They're on Team Ultron," Whedon told EW in their Comic-Con preview issue.
"Which makes things really hard for the Avengers because all of a sudden they're dealing with powers that they're not used to. With The Avengers, everybody pretty much had the power of being able to punch somebody, and now we have a woman who can get inside your head and move objects, and a boy that can move faster than anything, and a robot [Ultron] who can self-replicate and is out of his mind. So all of a sudden, it's a darker, weirder, tougher world that they're living in."
The man who is Quicksilver also added his two cents as to what people can expect from a Quicksilver that sounds wildly different than the one we saw in X-Men: Days of Future Past.
"There's a lot of clashing. He's quick-tempered. He gets agitated. He's impatient. But he's super protective. They're very yin-and-yang in that twin sense," Taylor-Johnson said. "In his power, he's physical and she's psychological. My character is very much on the frontline, but he can be quite emotional. You see this beautiful tenderness between them."
Watch The Avengers online and stay with Movie Fanatic for all sorts of news on Avengers: Age of Ultron and dozens of other films one week from today at Comic-Con!