Boyhood: Ethan Hawke Dishes "Real Story About a Real Family"
by Joel D Amos at . Updated at . Comments
Ethan Hawke has had some incredible experiences with writer-director Richard Linklater over the years, most recently with the Oscar-nominated Before Midnight. But none of that could compare with the incredible cinematic journey he took with Linklater making Boyhood. "It's just so fun to tell a real story about a real family," Hawke told Movie Fanatic.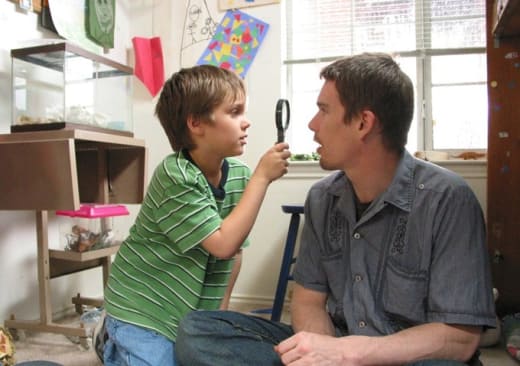 As teased in the Boyhood trailer, the film is a story about a boy, played by Ellar Coltrane, and his life from eight to 18. And he's played by Coltrane through the whole journey which means, yes, Linklater and his cast filmed this movie over an astonishing 12 years.
"I mean, so much of the problem with most movies is they create a false narrative. It has a beginning, middle and end that all takes place over six months. But our lives never feel like that."
Hawke says that the beauty of life is that there is so much more to it than what can be captured in that type of narrative. And Boyhood allowed Linklater and his cast to explore the nuances of life that other film projects would miss. "We have moments of grace or moments when we feel something deeply but it is because of 90 million other things that happen before it, not just that moment," Hawke said.
"I found it's so enjoyable to tell a story without any lies in it like that. Time is so much a part of what makes you close to people. So we got to do that with each other, and we got to do that with the audience. The audience starts to believe these characters because they are watching them experience time with each other."
The thing about Boyhood too is that at any point in the 12-year process, the film could have been derailed. Yet, the opposite happened. "It gained momentum the more we were in it," Hawke admitted.
"Knowing Rick, I didn't have any fear we wouldn't finish it. It could become more problematic. Jonathan Sehring at IFC really believed in this project and was there supporting. He could have gotten fired! That happens to these executives."
We all know that actors can be vein, but what was it like for Hawke to see himself literally age over 12 years while watching the finished product of Boyhood? "When the movie started I had this feeling of like, man, I still look good," Hawke said and laughed. "And then I'm like oohhh (makes downward spiral sound)."
For this movie star, age is about experience and living life and it's nothing to shy away from.
"It's fun. Everybody acts like (age) is just some kind of evil thing. Everybody keeps talking about it as if it's not happening all the time to everyone. We had freaked out about it, but it's just the reality and it always is," Hawke said.
"The second you buy a car it's a used car. That's the way we are, man. This machine is in action. I tried to be really proud of it. I don't know why we support this idea that the best time of your life is when your skin is great because it is one time of your life!"
Overall, Hawke knows that a production like this is once in a lifetime. "We got so lucky," he said. And a large portion of that had to do with the casting of Ellar and Linklater's daughter to play his sister Lorelei. "We could have never predicted that they would contribute on the level that they both did."
Don't miss Linklater's early work and watch Dazed and Confused online.