Comic-Con: Saturday Schedule Led by The Hobbit, Batman & Marvel Studios
by Joel D Amos at . Updated at . Comments
We've shown you the Comic-Con Thursday schedule and the Comic-Con Friday schedule and now we can reveal the who, what and where for Saturday at the famed San Diego-based pop culture convention.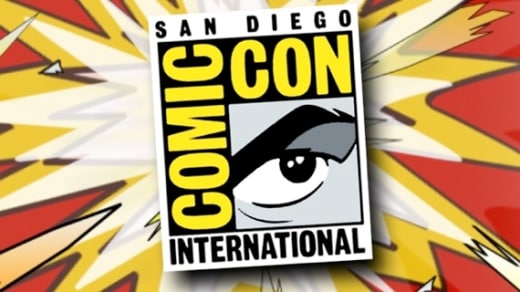 The day is highlighted by a Warner Bros. presentation that includes a look at the final The Hobbit movie and the upcoming Mad Max flick. Legendary Pictures unleashes its future slate, Frank Miller and Robert Rodriguez take us back to Sin City and a certain Dark Knight celebrates 75 years.
Warner Bros. Pictures Presentation:
Jupiter Ascending: The Wachowskis' first original sci-fi flick since The Matrix finds them at Comic-Con promoting an action sci-fi thriller starring Channing Tatum as an alien warrior and Mila Kunis as an Earth-bound princess who had no idea she's royalty.
Mad Max Fury Road: The man who directed every Mad Max movie, George Miller, is back and is bringing Tom Hardy to the lead role – along with Charlize Theron, Nicholas Hoult, Zoe Kravitz and Rosie Huntington-Whiteley.
The Hobbit: The Battle of the Five Armies: Peter Jackson promised a teaser trailer soon, and it looks like he'll be coming to San Diego to deliver our first tease of the final chapter of his The Hobbit trilogy.
Saturday, July 26, 10 a.m. – 12 p.m.
Hall H
Legendary Pictures
Legendary Pictures (the people who brought us Godzilla) will be showcasing their upcoming slate of sci-fi/action and horror titles.
Saturday, July 26, 12:25 p.m. – 1:10 p.m.
Hall H
The Boxtrolls
The people who charmed us with Coraline and ParaNorman -- LAIKA -- return with a new stop motion animated gem called The Boxtrolls. LAIKA gives us a new kind of family in the charming tale of a little boy who is raised underground by a community of trolls, well specifically – Boxtrolls.
Stars Ben Kingsley, Isaac Hemstead Wright and Elle Fanning will be joined on the Comic-Con stage with producer, lead animator and LAIKA head Travis Knight.
Saturday, July 26, 1:30 p.m. – 2:30 p.m.
Hall H
Frank Miller's Sin City: A Dame to Kill For
Robert Rodriguez and Miller are back with their sequel to Sin City, Sin City: A Dame to Kill For. Fans will score with not only appearances by Miller, Rodriguez and members of the cast, but also a full-experience look at the Sin City universe.
Saturday, July 26, 2:50 p.m. – 3:50 p.m.
Hall H
DC Entertainment: Batman 75th Anniversary
From comics, to TV and of course movies, Batman has thrilled and entertained us for 75 years and to celebrate, DC Comics is presenting a special panel with special and surprise guests!
Will Ben Affleck show up? We're thinking yes.
Saturday, July 26, 4 p.m. to 5 p.m.
Hal H
Here's our favorite Batman quotes from his legendary movies!
Marvel Studios
Marvel head Kevin Feige takes to the Hall H stage and we'd be prepared for some exclusive first looks at Avengers: Age of Ultron, Ant-Man and a reveal about the upcoming Dr. Strange movie. Plus, whatever else Feige feels like announcing to the world about Phase 3.
Saturday July 26, 5:30 pm - 6:30 pm
Hall H
The biggest news on Saturday ought to be the reveal of Avengers: Age of Ultron. To get that anticipation meter up... check out our slideshow of set photos and watch Avengers online to be all sorts of ready!