Comic-Con: Thursday Schedule Highlighted By Goosebumps & Goonies!
by Joel D Amos at . Updated at . Comments
We have been given the Thursday schedule for movie-related fare for this year's Comic-Con, and let's just say the annual pop culture convention is off to a very good start.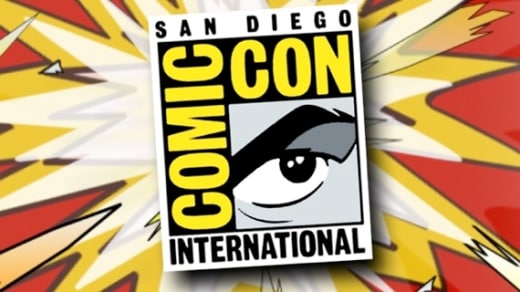 Some of the highlights include a preview to the new Battlestar Galactica movie and a reunion of the cast of Goonies that will also tease the recently announced Goonies sequel!
This is the first day of the four-day fest, and the schedule also features presentations from studios Paramount and DreamWorks Animation as well as looks at The Giver and Marvel and Disney's Big Hero 6.
Comic-Con Thursday Schedule:
The Legacy and Return of Battlestar Galactica
A discussion and Q&A on the upcoming Battlestar Galactica movie will take place and fans can chime in as to where they would like to see the story and character head in the new movie.
Thursday July 24, 2014 10:30am - 11:30am
Room 6BCF
Dreamworks Animation
TBA
Thursday July 24, 2014 11:30am - 1:00pm
Hall H
Sony Pictures Entertainment
Sony Pictures will be showcasing two of their eagerly anticipated upcoming movies including a big screen version of Goosebumps, written by R. L. Stine. To say fans are eager for this film is an understatement -- there are over 400 million books that have been sold worldwide. Jack Black stars as the author in the film and Rob Letterman is directing. Both Black and Letterman will be in San Diego!
Also coming is a preview for the film Pixels, starring Adam Sandler.
Thursday July 24, 2014 12:30pm - 1:30pm
Indigo Ballroom, Hilton San Diego Bayfront
The Giver
The highly anticipated page to screen effort The Giver will show off never-before-seen footage from the film that stars Jeff Bridges, Brenton Thwaites, Odeya Rush, director Phillip Noyce, and bestselling author Lois Lowry. All will be in attendance.
Thursday July 24, 2014 1:30pm - 2:30pm
Hall H
The Art of Big Hero Six
Walt Disney Animation Studios will present what director Don Hall, producer Roy Conli, production designer Paul Felix and character designer Shiyoon Kim have completed thus far on the animated film that tells the story of Hiro Hamada, who learns to harness his genius.
Thursday July 24, 2014 2:00pm - 3:00pm
Room 7AB
Paramount Pictures
Paramount Pictures will provide an inside look at their upcoming films. Attendees will view exclusive footage presented by special guests and hear the latest news for some of the year's most anticipated movies!
Thursday July 24, 2014 3:00pm - 4:00pm
Hall H
Goonies Never Say Die
The Goonies are back! As Donner announced that the sequel to the 1985 classic is underway, the original cast will be there to talk about the first film, how it has stood the test of time and what to expect from the upcoming film.
Thursday July 24, 2014 6:00pm - 7:00pm
Indigo Ballroom, Hilton San Diego Bayfront
Check out all those photos and character posters we have so far from one of Thursday's highlights, The Giver.