Exodus Gods and Kings: Ridley Scott Dishes His "Biggest" Movie
by Joel D Amos at . Updated at . Comments
We just premiered the Exodus: Gods and Kings trailer and it has been almost universally hailed in its biblical telling of the Moses story. Christian Bale is Moses in Ridley Scott's epic, and if you are teased from the trailer, that is a good thing, according to Scott in an interview with Empire.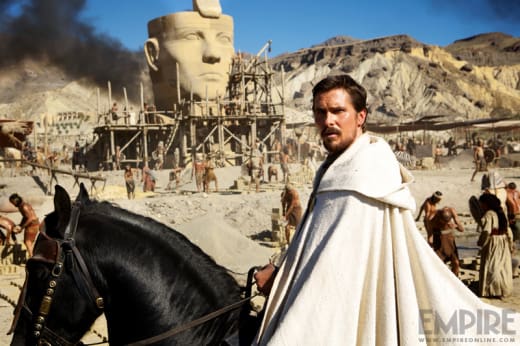 Those plagues that are iconic from the Moses story… we're only getting the beginning in the trailer.
"I've held back a bit -- wait till you see the movie. You must never oversell yourself. You've got to wait till you're three weeks out, then you go for it. This is a big movie. 1300 effects shots is a lot. Not compared to something like Star Wars, sure, but we're not 'effecty' in that sense of the word," Scott said.
"One of the things that has come off really well is the reality of the characters. You wouldn't call it an effects film even though in many ways a lot of what was needed is extraordinary. There were things I couldn't build. But in today's world the effects are so good that it looks real, effectively."
One thing is for sure, although one of the last classic directors to embrace the digital format, he is clearly enjoying his newfound joy in the format.
"I went digital really late in the day, maybe even later than Steven [Spielberg]. I was one of the diehards who said they couldn't possibly go to push-button technology without really realizing that it actually works like a son of a bitch," Scott added.
"It gets you what you want and you can control it. Outside of digital the whole thing depends on so many other factors. How many prints have been run off it and so forth. On this, when you press a button it's the same."
Scott had told a source of Movie Fanatic's at Fox that Exodus: Gods and Kings was one of the films in his career he was most proud of, which is clear from his feelings looking at the close-to-finished product.
"Well, in terms of the metaphorical aspects, yes [this is the biggest project I've done]. Even budgetarily it's probably the biggest. But I didn't approach it as my biggest. I never do that," Scott said.
"I always approach it from the point of view of the characters, of the story. I never realized Gladiator was going to be quite as large in terms of its scope and yet it was a very small, personal story -- a revenge. A simple revenge into which we had jig-sawed some characters."
Watch Gladiator online to see what Scott is talking about with that film and click through and check out our gallery of photos from his latest, Exodus: Gods and Kings.