Forrest Gump Getting IMAX Release for 20th Anniversary
by Joel D Amos at . Updated at . Comments
Forrest Gump landed 20 years ago and would go on to not only win Best Picture and Best Actor for lead Tom Hanks, but it would permeate into our society as few movies have. And who could forget those iconic Forrest Gump quotes?!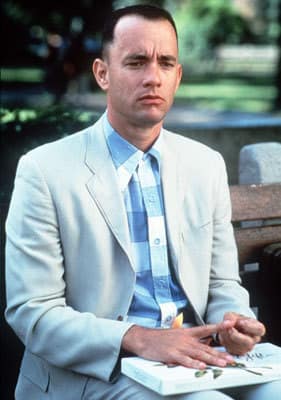 To celebrate its anniversary, Paramount, IMAX and Warner Bros. Home Entertainment announced today that the Robert Zemeckis classic will return to theaters for a one week only IMAX theater run starting September 5.
The film would go on to win six Academy Awards, and after it finishes its one-week IMAX run, it will land on home video in a special Diamond Luxe Blu-Ray release on September 30 that will feature collector-style packaging and a new design.
"As a ground-breaking achievement in both cinematography and visual effects for its time, Forrest Gump has become a modern American movie classic," said Greg Foster, Senior Executive Vice President, IMAX Corp. and CEO of IMAX Entertainment.
"We're thrilled to once again collaborate with our longtime friends and partners Bob Zemeckis, Tom Hanks and Paramount. This film deserves a platform like The IMAX Experience to help make its 20th anniversary one to remember."
Forrest Gump went on to make $675 million at the box office, with $330 million coming from here in the States.
Watch Forrest Gump online and relive the magic, and then head to the theaters in September to witness it on the largest screens available!
Click through our slideshow below and enjoy our 11 favorite quotes from Forrest Gump!