Godzilla DVD: Release Date & Bonus Features Announced
by Joel D Amos at . Updated at . Comments
The force of nature that is Godzilla is coming soon to various home video platforms! Warner Bros. announced today that Godzilla will be storming onto DVD, Blu-Ray and digital formats on September 16.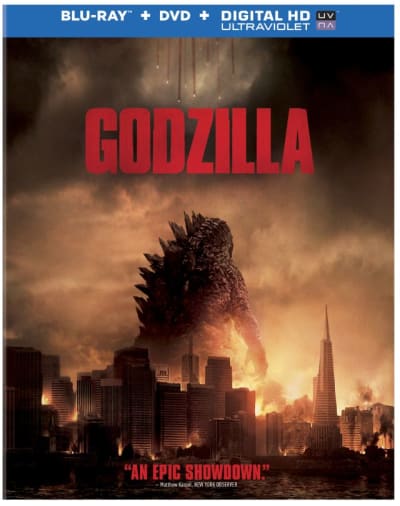 As teased in the Godzilla trailer, the film stars Aaron Taylor-Johnson, Elizabeth Olsen, Bryan Cranston, Ken Watanabe, Juliette Binoche, Sally Hawkins and David Strathairn. The film follows what happens when an ancient beast is awakened, but why?
Godzilla triumphantly was brought to life by Gareth Edwards (recently announced director of a Star Wars spin-off) from a screenplay by Max Borenstein. As you can tell from our theatrical Godzilla review, this is one fine film that fans of the classic movie monster should be thrilled with.
When it comes to the bonus features, here's what you can look forward to:
MONARCH: Declassified - Discover explosive new evidence not contained in the film that unravels the massive cover-up to keep Godzilla's existence a secret.
Operation: Lucky Dragon
MONARCH: The M.U.T.O. File
The Godzilla Revelation
The Legendary Godzilla - Go behind the scenes with filmmakers and cast for an even deeper look at the larger than life monsters in the film.
Godzilla: Force of Nature
A Whole New Level Of Destruction
Into The Void: The H.A.L.O. Jump
Ancient Enemy: The M.U.T.O.s
Among these bonus features, our most anticipated has to be Into the Void, The H.A.L.O. Jump and The Godzilla Revelation -- both should delve into two realms of the film that made it so truly special.