Guardians of the Galaxy Soundtrack: Track List Revealed!
by Joel D Amos at . Updated at . Comments
One of the things that has been the most impressive about the marketing of Guardians of the Galaxy is its use of classic songs in its teasers.
Whether it was the use of Hooked on a Feeling in the first Guardians of the Galaxy trailer or even the use of Spirit in the Sky in the fantastic Guardians of the Galaxy UK trailer, song choices by director James Gunn have been superlative.
The thing is that if you're a fan of the comics that Guardians of the Galaxy is based on, you know that Star Lard, aka Peter Quill, has a mix tape that he has with him at all times and it features some of the most important music to him. If you ever wanted a copy of that mix tape, you can have it and it comes in the form of the Guardians of the Galaxy soundtrack.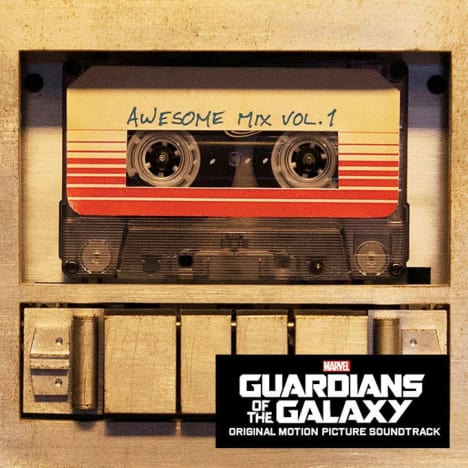 And it turns out those songs in the trailers aren't just for teasing purposes, they'll be part of the soundtrack. Also included is the recent use of Cherry Bomb in the latest Guardians of the Galaxy trailer.
And that is just the beginning. We've gotten our hands on the soundtrack list. Or, as we like to call it, Star Lord's Mix Tape!
1. Blue Swede – Hooked on a Feeling
2. Raspberries – Go All the Way
3. Norman Greenbaum – Spirit in the Sky
4. David Bowie – Moonage Daydream
5. Elvin Bishop – Fooled Around and Fell in Love
6. 10Cc – I'm Not in Love
7. Jackson 5 – I Want You Back
8. Redbone – Come and Get Your Love
9. The Runaways – Cherry Bomb
10. Rupert Holmes – Escape (The Pina Colada Song)
11. The Five Stairsteps – O-O-H Child
12. Marvin Gaye/Tammi Terrell – Ain't No Mountain High Enough