If there was any actor who embodies Hercules more than Dwayne Johnson, we'd like to meet them. But looks, persona and talent can only carry a movie so far. When it comes to Brett Ratner's Hercules, turns out Johnson more than has enough to make this a pretty good, fun ride.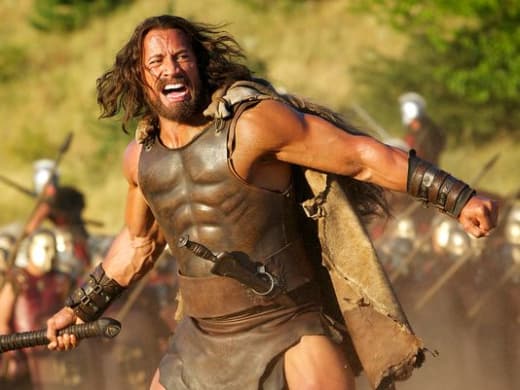 As teased in the Hercules trailer, Johnson plays the legendary warrior after he's more than earned an iconic reputation and he's ready to settle into a life as a husband and father. As he is half god, the gods are none too happy that this gift to earth has chosen to walk away. Hercules loses much and launches on a mission that will solidify his name as a legend.
Ratner was smart to surround his star with acting talents that add serious gravitas to the picture. John Hurt, Ian McShane and Rufus Sewell all excel and give the sword and sandal epic a classical feel that allows Johnson to truly shine as the title character. And that is exactly why Hercules largely (and surprisingly) works.
Whereas the Kellan Lutz-starring The Legend of Hercules felt the need to treat their tale as an origins story with a feel that fell largely flat, Johnson's Hercules is a living and breathing hero that is filled with color, history and most importantly for an action flick, motivation. That is because of the story that Johnson is given to work with that follows his effort to bring down a tyrannical warlord. With Johnson bent on a mission with might and right on his side, this Hercules actually has some true meaning and power behind it.
Most sword and sandals movies that employ that method of storytelling are the ones we remember. And surprisingly, Hercules is one of those. But, let's not kid ourselves -- this is no Lawrence of Arabia. But, what it is is a fantastically fun summer movie that puts a new take on a (very) old hero and for that it should be saluted.
And our Hercules review must also point out that Ratner has been fodder for the press' ire over the years for many reasons, especially for his films that missed the mark.
But, might we say that with his recent Tower Heist and now Hercules, could it be that Ratner is achieving a new level of artistic success with big-time action movies that employ heart and hilarity in just the right doses with the result being something audiences can truly enjoy?
Dare we say: Yes.