Horns: Daniel Radcliffe's Love of Dark Movies Not "Going to End Soon"
by Joel D Amos at . Updated at . Comments
When it came to making a truly dark film, teased in that Horns trailer, star Daniel Radcliffe told us at Comic-Con that he had no hesitation. "I definitely didn't have any reservations, in terms of the darkness of the movie. Even Harry Potter had quite a lot of darkness in it," Radcliffe said.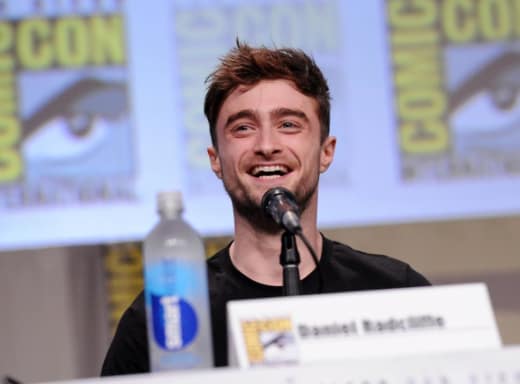 "Doing things like Equus and The Cripple of Inishmaan and Kill Your Darlings, I like getting involved in that kind of stuff."
Radcliffe was first drawn to the book by Joe Hill. And the movie of it was something he pursued -- relentlessly.
"It's an amazing book, and the adaptation of the book into a script was fantastic. I like things that take an idea that everyone can relate to in some way -- and not necessarily being accused of murdering your girlfriend but the idea of being an outsider and experiencing loneliness and coping with loss -- and finding a really original, crazy way to deal with that topic," Radcliffe said.
"People talk about this film as being fantasy or horror. But, I've always seen it as being magical realism, in the sense that most of the world is very, very grounded in reality, apart from this one fantastical thing that is happening in the middle of it."
Of course what he means is that after being accused of the brutal murder of his girlfriend in Horns, Radcliffe's character grows, well, horns! Is he the devil and how does one go about preparing for such a role?  
"It's a challenging part and there's a lot to mine. I broke down the script, the way that I would approach anything. And then, you have the more superficial but fun challenges of the prosthetics, which is mainly a challenge of staying still, for me," he said and laughed.
After his turn in The Woman in Black and now with Horns, one might think that Radcliffe is purposely setting on a course of only making dark films, but it is not that simple.
"I do like the genre because anything can happen in it. As long as you play by your own rules, you can do whatever you'd like. It's not an intentional thing that I'm picking all of this really dark work, but I guess I enjoy it," Radcliffe said.
"People do talk about Horns, The Woman in Black and Frankenstein as being things that are all of one genre, but they actually aren't. The Woman in Black is the most traditional horror film you can get, and Horns is the least. And with a film like Frankenstein, it more falls into the adventure category than anything else. I can't explain my attraction to dark material, but I don't think it's going to end soon."
With his experience on the Harry Potter films, Radcliffe is all too familiar with the sometimes thankless task of bringing a beloved book to the big screen.
"Harry Potter and The Lord of the Rings came out at the same time, initially, and a few other famous book-to-movie transitions have adjusted people to the idea that, as wonderful as all books are and as much as we'd like to put everything in, things do have to move around and shift slightly," Radcliffe said.
Radcliffe assured fans of the book by Hill that they should be beyond excited for the film version to land from director Alexandre Aja.
"The tone of the film remained absolutely true to the tone of the book. I think some filmmakers would have looked at all of the different genres and styles and gone, 'Okay, for the sake of ease, we'll just make it horror, and take out the comedy and romance,' to make it simpler. Alex never shied away from any of that."
For those familiar with the book, there is a whole lot of symbolism in it, and on many levels. The titular horns are merely the tip of the iceberg. "I'm not a religious person, but I have always been fascinated by the mythology and imagery in all religions, particularly Christianity," Radcliffe said.
"Weirdly, when we (Radcliffe and Alex) first met, we had a discussion and I was worried that I came off a little bit creepy with my obsession with the devil as a character in literature. He is traditionally this very, very charismatic character. So, I was very excited to play him."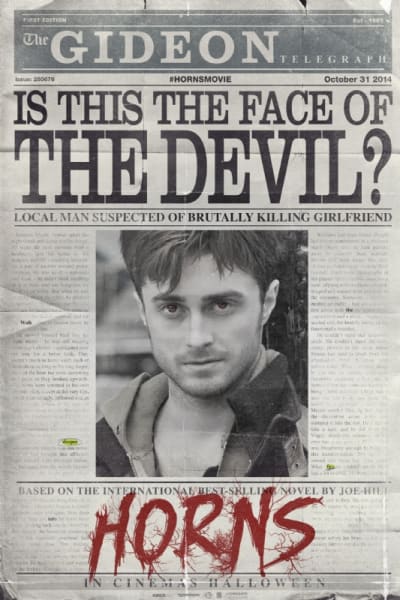 Getting to perform with all those snakes only enhanced things for Radcliffe. "The snakes were awesome. I had a six foot long python wrapped around me for the last half of the film, which is the best prop any actor can ever have. There's no acting required when you're wearing a snake," Radcliffe said and laughed.
"There's a lot of symbolism that got built into the movie. One of my favorite things is that all of the driver's registration plates in the movie are bible verses, which relate very specifically towards the characters."
This is Radcliffe's first Comic-Con, and we had to ask if he could dress up in cosplay as anyone, who would it be? And as it turns out, he's already done it! "I did exactly that as Spider-Man, head to toe," Radcliffe proudly exclaimed.
He even got his photo snapped in his costume next to one of his (surprisingly) favorite movies. "I posed next to the Sharknado 2 poster, which was pretty awesome. I'm so excited about Sharknado 2. I can say that un-ironically!"
Lastly, as Radcliffe enjoys his 25th year of life, we wondered where he thought life would take him in his next 25.
"I hope that, in 25 years time, I will have a family. I would like to have directed by then, as well. That's something I really want to do, down the line. But I just want to keep working, really," Radcliffe said.
"Playing one part for a very long time builds up in you a desire to play as many different things as you can, so I'm really enjoying that, at the moment. So, I don't know what it will hold, but I'm really looking forward to it."
Check out when we first discovered Radcliffe and watch Harry Potter and the Sorcerer's Stone online!