Insidious Chapter 3 Starts Production: First Photo Revealed!
by Joel D Amos at . Updated at . Comments
Insidious: Chapter 3 has started production and fans of the first two Insidious movies could not be more thrilled. Focus Features has given us a first-look photo of director Leigh Whannell giving some haunting direction to his stars, including new to the series Dermot Mulroney.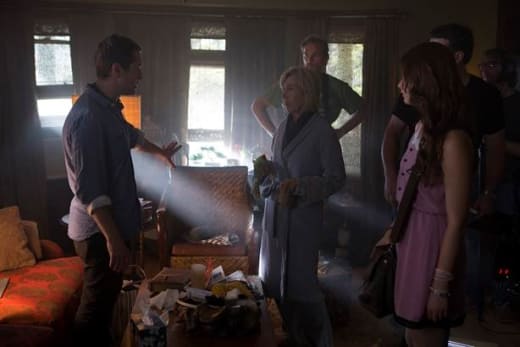 The production is shooting here in Los Angeles and continues the series that Whannell started with the co-writer and director of the first two films, James Wan (who just wrapped Fast and Furious 7).
Insidious: Chapter 3 also stars Stefanie Scott, Lin Shaye and Angus Sampson and is set to land in theaters May 29, 2015.
What's it about, you ask?
Insidious: Chapter 3 is a fresh tale of terror and follows a teenage girl and her family that comes before the haunting of the Lambert family (featuring Rose Byrne) that we saw in the first two movies.
Speaking of those first two movies, they have earned a collective $257 million worldwide!
See how it all got started and watch Insidious online.