Lucy & Scarlett Johansson Kick Butt: Weekend Box Office Report
by Joel D Amos at . Updated at . Comments
Lucy took care of business on and off the screen. Scarlett Johansson and Luc Besson's triumphant return to directing, Lucy, landed in first place at the weekend box office with a stunning $44 million.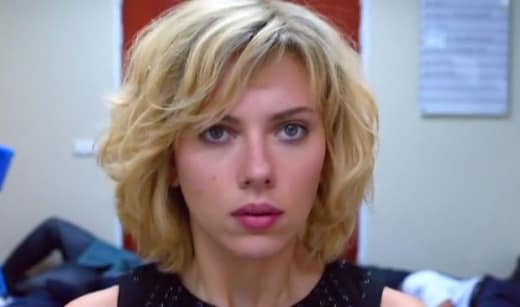 Lucy easily bested the Dwayne Johnson-starring Hercules, which landed in second with a $29 million haul. Third place belonged to the film that had won the last two box office weekends, Dawn of the Planet of the Apes. Its $16.4 million brought its total to $172 million in three weeks.
Fourth on the box office charts was The Purge: Anarchy. The horror/thriller sequel banked another $9.9 million to take its cume to $51.3 million.
Closing out the top five was Planes: Fire & Rescue. The Disney flick took in $9.3 million.
Box office top 10:
1. Lucy, $44 million
2. Hercules, $29 million
3. Dawn of the Planet of the Apes, $16.4 million
4. The Purge: Anarchy, $9.9 million
5. Planes: Fire & Rescue, $9.3 million
6. Sex Tape, $5.8 million
7. Transformers: Age of Extinction, $4.6 million
8. And So It Goes, $4.6 million
9. Tammy, $3.4 million
10. A Most Wanted Man, $2.7 million
Celebrate Lucy and check out our full Lucy gallery of awesomeness.