Pixels Photo: First Look at Adam Sandler as Video Game Hero
by Joel D Amos at . Updated at . Comments
In honor of Columbia Pictures bringing Pixels to Comic-Con next week, the film has released its first photo (via EW) of stars Adam Sandler, Josh Gad, Peter Dinklage and Michelle Monaghan. The concept of Chris Columbus' film sounds sublime.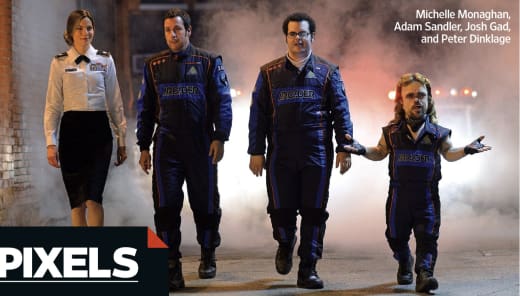 The president (Kevin James) is in a bind. The world is being invaded by aliens who have misinterpreted classic video game signals as an initiation of hostilities towards them. In response, they invade our planet in the form of these classic video games, and the president's only hope is to call in his childhood best friend (Sandler) who was a video game whiz.
Sandler brings together an all-star team of old school arcade veterans, and together, they may just be what we need to save the planet.
The fact that Columbus is back behind the camera thrills us to no end. The man behind some of our favorites that can be seen when you watch The Goonies online and watch Harry Potter and the Sorcerer's Stone online is one of our faves.  
Look for Pixels May 15, 2015, and look for us to bring you much more from this title as it arrives at Comic-Con.