The characters we adored from Rio are back with Rio 2, and creator-director Carlos Saldanha is introducing us to a few new colorful folks as the film lands on DVD, Blu-Ray and digital download after a successful run in theaters earlier this year.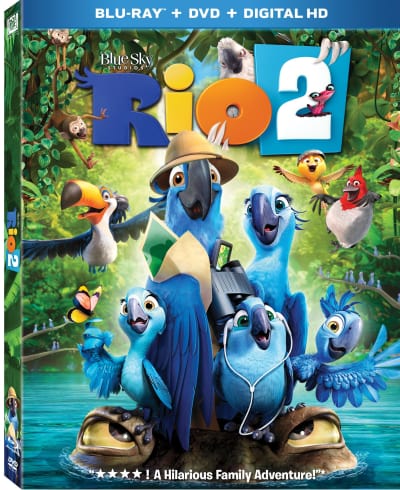 Jesse Eisenberg is back as Blu and Anne Hathaway is Jewel and the two are now happily together living in an animal refuge in Rio, along with their brood of children. But, as teased in the Rio 2 trailer, news arrives that Blu's former human companion and her fellow researcher have found signs that other Blue Macaws are actually alive and that Blu and Jewel are not the only two left. They are in the Amazon.
The family packs up and heads out to the Amazon to find their roots, even if the city slicker, Blu, is not thrilled. For more on the film itself, check out our theatrical Rio 2 review.
They will find their kin, led by Jewel's father (Andy Garcia) who is the leader of this flock. Hot on their trail is the villain from the first movie, Nigel (Jemaine Clement) and his trusty froggie sidekick (a delightful Kristen Chenoweth).
The bonus features for the Rio 2 Blu-Ray, DVD and digital download are massive, expansive and impressive. Your kids will insist on watching all 90 minutes of new materials. But, what are the best of the best?
The Rio 2 soundtrack is teased with a free download code for two fabulous songs, I Will Survive and Poisonous Love, both done by Clement and Chenoweth. Plus, there are codes for 15 new levels for the Angry Birds Rio game, as well as Music Machine that delivers 10 songs, a Sing-Along feature for six tracks and Dance-Along songs that will have your kids boogieing from four songs.
As for features, oh boy, where to begin?
Since so much of the charm of Rio and Rio 2 is the music and its way of taking the viewer on a musical journey through the South America country, we have to salute Boom, Shake, Snap: The Local Sounds of Brazil. The featurette is broken into four parts: The Bodybeats of the Barbatuques, How to Play the Barbatuques, Rhythmic Rio and The Upbeat Uakti Jam Behind the Scenes.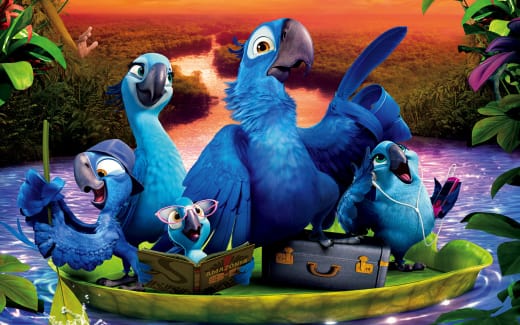 Each feature in its own way shows what is so special about Brazilian music, as showcased in Saldanha's love letters to his hometown and home country. We could honestly watch these featurettes over and over -- yes, the beat has us.
And maybe it's because we just adore Clement, but the featurette Nigel the Shakespearean Cockatoo and Friends is bloody brilliant. Who else could make a villainous bird with dreams of appearing on the world's stages reciting Shakespeare, who also sings the hell out of I Will Survive appear so grounded, hilarious and downright evil?  
Lastly, we have to mention the Amazon Idol sequence of the movie where Will.I.Am's Pedro and Jamie Foxx's Nico try to find Brazil's next big thing. The Rio 2 Blu-Ray allows the viewer to be the judge for four sets of hilarious auditions, further proving what a well thought out home video release Rio 2 is for audiences of all ages.
Watch Rio 2 online right now!  Haven't seen the charmer that is the first film? Watch Rio online first and then don't miss the sequel!