Sabotage DVD Review: Arnold Schwarzenegger Returns to Form
by Joel D Amos at . Updated at . Comments
Slowly, but surely, Arnold Schwarzenegger has been building himself back into an action movie star and it has come to full fruition with the arrival of Sabotage on DVD, Blu-Ray and digital download.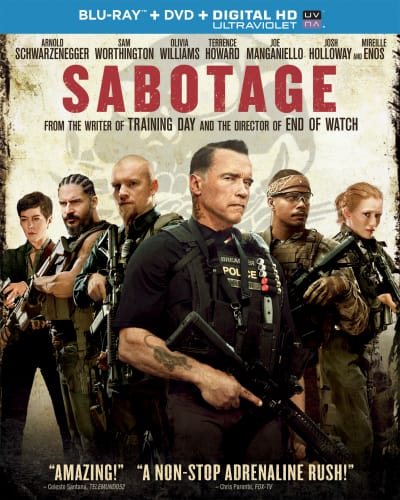 Schwarzenegger is the leader of an elite DEA task force who has had incredible success taking down the world's worst drug lords. As the film begins they score their biggest arrest to date.
Great news, except one by one in the following days, Schwarzenegger's crew begins being killed off. Our leader must work with a local cop (Olivia Williams) to get to the bottom of these murders before everyone is gone. Oh, and did we mention that ten million dollars is missing from the big bust? Check out our Sabotage exclusive trailer for more!
As we stated in our theatrical Sabotage review, this is a fun ride and it is no surprise as it is from writer-director David Ayer (Training Day, End of Watch, and the upcoming Brad Pitt-starring Fury). And it's not surprising that a filmmaker of his talents scored a cast that includes not only one of the biggest action stars in the world, but also Sam Worthington, Terrence Howard , Joe Manganiello, Josh Holloway and Mireille Enos.
There are twists and turns throughout with a gritty feel that is reminiscent of Ayer's other films. Given the final twist in the movie, that you honestly don't see coming, having the bonus features include a series of alternate endings is a great joy and utter surprise.
Seeing how this story could have ended in a multitude of ways shows the strength of the story as a whole and also in many ways, shows that Schwarzenegger -- even after all these years -- is still up for having some serious fun.
The deleted scenes from Sabotage are interesting, but it's easy to see why Ayer cut them.
And the only other bonus feature is Making Sabotage, and this is a terrific behind-the-scenes doc that for fans of Ayer and Schwarzenegger shows why these two were terrific working together. It's fascinating to see Ayer work his movie magic with the man who knows a thing or two about making action work -- which is largely why Sabotage works in the first place.
Check out the film right now and watch Sabotage online.