Sabotage Exclusive Giveaway: Win Arnold Schwarzenegger's Latest Blu-Ray!
by Joel D Amos at . Comments
Since returning to Hollywood, Arnold Schwarzenegger has chosen quite wisely when it comes to his film roles. Further proof of that is his latest, Sabotage. While we wait for the late summer release of The Expendables 3, we've got a chance for two of our readers to score a copy of the Blu-Ray for Sabotage.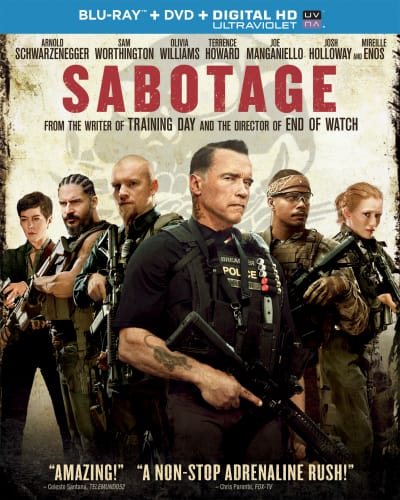 As teased in our Sabotage exclusive trailer, Schwarzenegger stars as the leader of an elite DEA group that has crossed the globe putting the worst of the worst behind bars. After a huge drug bust that is worth hundreds of millions of dollars, he and his team may have just pissed off the wrong drug lord.
They start dying, one-by-one, and Schwarzenegger has to figure out who is behind it before they are all dead.
Sabotage features a stellar cast including Sam Worthington, Olivia Williams, Terrence Howard, Joe Manganiello, Josh Holloway and Mireille Enos. It is from the writer of those Training Day quotes and the writer-director of End of Watch.
Be sure to enter our Sabotage contest below, and watch End of Watch online to get an idea of the treat you're in for with the Sabotage Blu-Ray when it lands July 22.
Use the widget below to enter on Facebook or Twitter. There are three unique ways to enter, and by entering all three ways you can increase your chance at winning!