Sex Tape Review: Jason Segel & Cameron Diaz Do It Again (And Again)
by Joel D Amos at . Updated at . Comments
There was something surprisingly funny and endearing about the trio of Cameron Diaz, Jason Segel and director Jake Kasdan with Bad Teacher. The three of them clearly had a chemistry that came across on the big screen in a raunchy, R-rated comedy that still had a lot of heart.
They're back together with Sex Tape, and this time out, the Segel-Diaz chemistry is front and center instead of just one part of a bigger picture.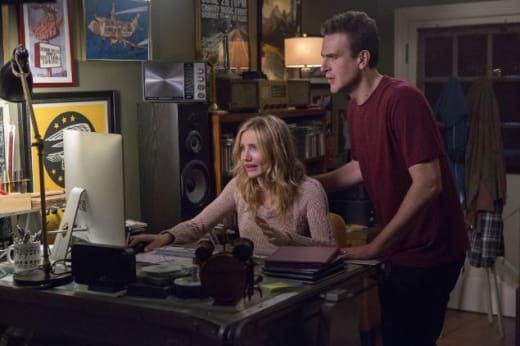 As teased in the Sex Tape trailer, the film begins with Diaz, a mommy blogger, writing on her site about how different things are between the first time you see your mate nude and the most recent time. Kasdan then flashes back over the years to when Diaz's Annie and Segel's Jay first met, fell in love and started their lives together.
They now have two kids and life is blissful but crazy busy, and one thing is sure: There is no time for sex… not even appointment love-making.
One night when the kids are staying with Annie's mother, she hatches an idea to go through the entire The Joy of Sex book and tape her and Jay going at it. Then, she wants it deleted. Only, it gets uploaded to the cloud and placed on every single iPad that the couple has recently given away to family, friends, the mailman and even Diaz's potential boss (Rob Lowe) who is about to buy her mommy blog for a ton of cash.
And the race is on to get them back before anyone sees it.
Sex Tape is a touching comedy about two people trying to find their passion again. But, it also is trying hard to be a bawdy R-rated laugh fest (as teased in the Sex Tape red band trailer) that is also trying to work as a family film in that it is about a "wholesome" American family that is happier than they realize they are.
All of those things do not quite add up in terms of the sum of the parts. Yet, the individual aspects of the film have many enjoyable moments.
Diaz and Segel are terrific together and we hope that this second film of them together with Kasdan is merely the beginning. Rob Corddry and Ellie Kemper play their married best friends and those two comedy vets are a dream team of casting.
And then there's Lowe, who steals the entire movie with the mere 20 minutes that he is in it. Oh, except for an astounding cameo in the final moments of the film by someone that we will not reveal who simultaneously is crude, crass and caring beyond compare.
Our Sex Tape review can report that for those seeking a laugh at the movies, there are plenty to go around in this second Kasdan-Diaz-Segel collaboration, just not as many as when you watch Bad Teacher online.