The Book of Life Exclusive: Director Jorge Gutierrez Talks "Mother Teresa of Cinema"
by Joel D Amos at . Updated at . Comments
As you can tell from The Book of Life trailer, this is a vivacious animated feature that takes the Day of the Dead legend and greatly expands it to an even greater audience. It comes from writer-director Jorge Gutierrez whom we caught up with for an exclusive video interview at Comic-Con.
Gutierrez could not believe his good fortune going from being a kid who saved up all his money to take the train from Mexico to San Diego for Comic-Con to being a first-time director presenting his passion project.  
Oh, and the fact that it is executive produced by legend Guillermo del Toro is something he is still pinching himself over. "He's the Mother Teresa of cinema," Gutierrez told us.
The helmer also had the joy of getting a star-studded cast into the booth, including Diego Luna, Channing Tatum, Zoë Saldana, Ice Cube, Ron Perlman, Christina Applegate, Gabriel Iglesias and Danny Trejo.
In fact, this was the first time Ice Cube had done voice work and Gutierrez told us what it was like to see a recording studio veteran (from his hip hop work) enter a whole new world as a voice actor for an animated film. "In the booth, he was incredible. He improved a whole ton of stuff."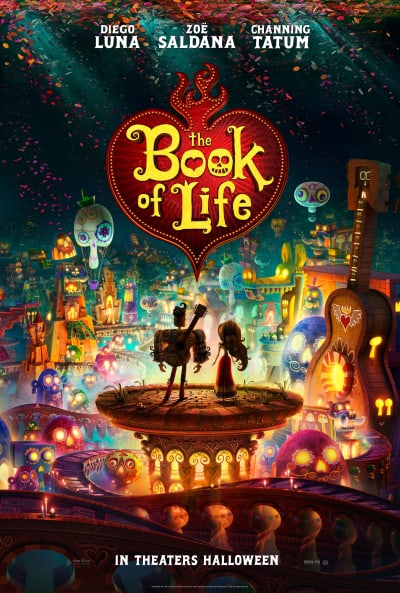 The Book of Life made quite an impression this past weekend at Comic-Con, especially with Biz Markie and Channing Tatum singing Just a Friend!