The Boxtrolls Exclusive: Inside the LAIKA Stop Motion Magic
by Joel D Amos at . Updated at . Comments
Judging by that jaw-dropping The Boxtrolls trailer, the stop motion animation magicians at LAIKA have done it again. The team who gave us Coraline and ParaNorman are back in the animated story that brings Alan Snow's book Here Be Monsters to life.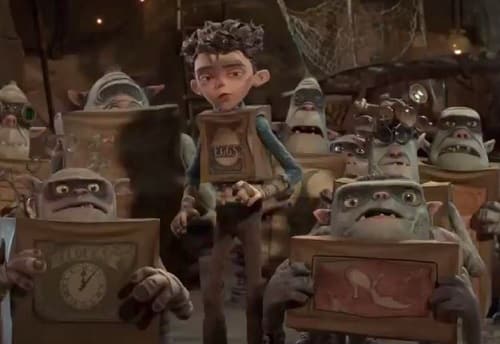 At Comic-Con we caught up with The Boxtrolls directors, Anthony Stacchi and Graham Annable, for an exclusive interview where the duo dishes the behind the scenes artistic mentality of the LAIKA animation studio in Portland that produces such stunning work.
They also explore what it was about the immense and super human challenge of bringing Here Be Monsters to the big screen that actually appealed to them and their ever growing desire to push the envelope. Audiences will be in for a treat when The Boxtrolls lands September 26.
Movie Fanatic: I was always curious with stop motion animation, is having extreme patience an important virtue to do what you two do?
Anthony Stacchi: It's not patience as much as it is the ability to focus. There can be a lot of distractions on a stop motion set, it's like a live action set. A lot of stop motion animators get in the zone when they're animating and that gives you the best performance. The key is to stay in that zone. There's also an old saying that any life that animators give to puppets, they suck out of the animators.
They both laugh.
Movie Fanatic: What was it about this world of The Boxtrolls that you all wanted to make it your next project after Coraline and ParaNorman?
Graham Annable: It all started with Alan Snow's book, Here Be Monsters. It was a huge book at over 500 pages that created such an incredible and fantastical world that seemed to be suited to a stop motion animation setting, this Victorian, steam punk turn-of-the-century place, it seemed like a perfect fit for what stop motion is so good at, which is playing up textures.
Anthony Stacchi: It was serendipity. The scope of the book would be a challenge under any circumstances. But at the studio and the technological advances in the creation of the faces has reached the point where the subtlety in the faces would match the performance you would need. The VFX department at the company got sophisticated enough so that we could make a film of this scope. There's probably not a single shot in the movie that doesn't have some sort of CG enhancement, whether it's atmospheric or there's this chase across the rooftops down this incredible cityscape. Everything they touch is something that we had to have built and the puppets are stop motion. But, if you see off into the distance, the moon is lit up with fog and clouds -- that was added in. It was the perfect meeting of the right story with the right studio…
Graham Annable: …at the right time. We learned so much as a studio working on Coraline and ParaNorman. We're so lucky to keep this great group of artists together for such a long time, which doesn't happen in stop motion. It's usually a one movie and people move on situation. We've been able to maintain the same amazing crew at its core throughout.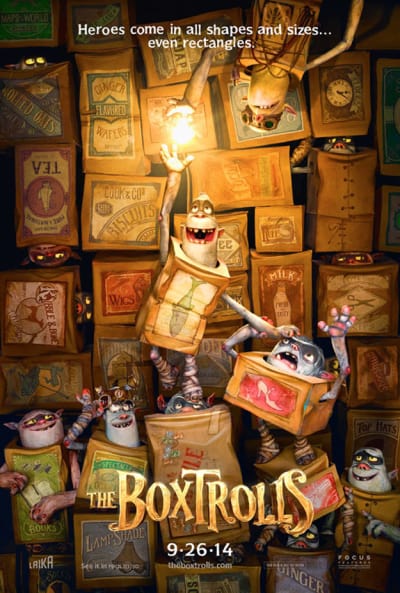 Movie Fanatic: Having that same group of people you've worked with since the beginning, which is rare, does that make the process easier? Or is it still really just as painstaking, you're just doing it with people whose artistry you know?
Graham Annable: People always ask us, "Are you getting faster?" [Laughs] And the answer is kind of not because the more refinements that show up, the more we fill that space creatively. I mean, The Boxtrolls looks like nothing we've ever done before and we couldn't have made that movie even a couple of years ago. It's because of all we've learned and refined, it's just not going any faster. We're just putting more into it. The images in this film are packed to the hilt.
Anthony Stacchi: Sometimes though when issues come up, it's nice to know that the people around you are the same people you've worked with for a long time and you can trust that they'll get it done. That's where it's the biggest asset. We know that the culture at LAIKA will take care of it. It's an idiosyncratic place where you can just plug people in and greatness can happen.
Movie Fanatic: It's also serendipitous that you all came together in Portland even…
Anthony Stacchi: Yeah, there's something in the water in Portland that gives us great stop motion animation artists.
Graham Annable: But, also, I think we reflect the culture of Portland too. Our films are the way they are not by mistake. A lot of Portland seeps into these movies.
Movie Fanatic: Do you think there is a line that connects Coraline, ParaNorman and The Boxtrolls? Or do you see them as totally separate entities?
Anthony Stacchi: There's a philosophy of the types of stories we want to tell -- never the same style and never the same story. I think there's a willingness to go to places where there's a real dynamic between the light and the dark. We talk about it as the films that we loved as kids that we retained a love of as adults. And those are the early Walt Disney movies like Dumbo and Pinocchio, those films that had darkness and scary parts to them – you never ever forgot those films. In the end, we make movies that we want to see and we make movies that we want our kids to see.
Check out the previous work of LAIKA and watch Coraline online.