Filmmaker Gareth Evans had the most unlikely hit with The Raid, the Indonesian-produced action fest that redefined the action genre. Its use of martial arts seemed to defy gravity and the rules of physics in general! He has returned with The Raid 2, and would you believe Evans has upped the ante and created a film with his sequel that could be considered for the title of best action movie ever?!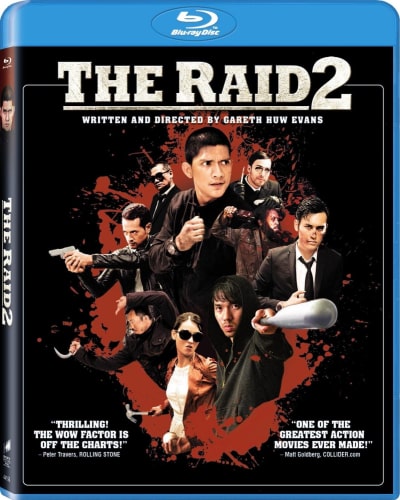 The Raid 2 has landed on DVD, Blu-Ray and digital download. For those of you who missed it in theaters (check out our theatrical The Raid 2 review), this is one of the most can't-miss home video releases of the year -- we guarantee it!
In the first The Raid, Iko Uwais is Rama, and after fighting his way out of a building filled with hundreds who sought his demise, it would be easy to think he could go back to his quiet life of being a husband and father.
That would be wrong. The entire city is filled with those who now want his head even more so after what he did to those evil folks in that building in The Raid.
As teased in The Raid 2 trailer, In order to rid the city of all its evil in one fell swoop, Rama heads undercover and poses as a crook and enters an Indonesian jail. He is there to befriend the son of the country's most powerful gangster. After one of the most sick (in a good way) jailhouse fight scenes we've ever seen, Rama proves his worth to the gangster's son and upon their release he is introduced to his father.
Rama becomes part of the inner circle and it is from there that he can complete his mission. But, it will not be easy -- by a long shot.
The Raid 2 DVD, Blu-Ray and digital download features over 90 minutes of mind-blowing bonus features that showcase the movie magic abilities of Evans and his star, as well as the team of stunt men and women who have firmly put the Indonesian cinema world on the map.
Our favorite of the bonus features has to be Violent Ballet: Behind the Choreography. We've always felt that the best action sequences in movies have a ballet-ish feel and that truly comes to life in this The Raid 2 featurette. Evans and his stunt team show us how they achieved their jaw-dropping action sequences that have many in Hollywood paying close attention.
Ready for a Fight: On Location illustrates the difficulty that Evans had in filming many of his action set pieces as the structure in Indonesia is not as set up as it is here in Hollywood. Oftentimes he would have to shoot a scene without the benefit of having streets shut down. It is all the more amazing he got what he did, and you'll feel that way after witnessing this featurette.
The Cinefamily Foundation Q&A with Gareth Evans, Iko Uwais and Joe Trapanese is also a can't-miss as to hear from Evans and his action stars about the making of this action classic is simply priceless. On that note, might we also suggest watching the film with the audio commentary turned on with Evans' incredible insight. 
We could not recommend enough checking this film out right now -- watch The Raid 2 online! And if you're new to this series, be sure to watch The Raid online first.