Transformers Age of Extinction Blu-Ray Release Details: Revealed!
by Joel D Amos at . Updated at . Comments
Transformers: Age of Extinction won the box office and became the first movie of 2014 to score a $100 million single weekend opening. The film has only been out for days, but already we have a bit of the details on the Michael Bay action fest landing on home video.
Amazon has announced the arrival of the Transformers: Age of Extinction Limited Edition Gift Set Blu-Ray for pre-order. No details were included in terms of bonus features or even a release date. But, what we do know is that you will get this statue of Optimus riding Grimlock with the purchase!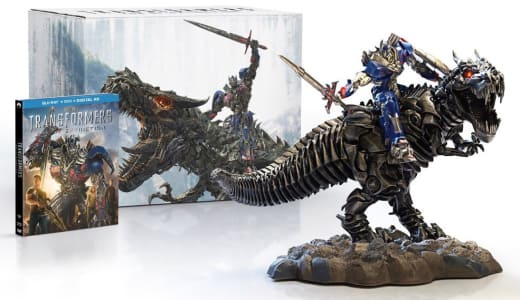 It's an Amazon exclusive and the statue used the same construction techniques that were used to create the models in the movie.
Not only can you have fun with the Transformers: Age of Extinction quotes, but now you can play with Optimus riding his buddy Grimlock while you're doing it!
Stay tuned for release date and bonus feature information as they become available.