Unbroken: Angelina Jolie Talks Jumping Into "Something So Much Bigger"
by Joel D Amos at . Updated at . Comments
Angelina Jolie has just premiered the stunning first Unbroken trailer and it appears that she has truly grown even more (astoundingly) since her first directorial effort, In the Land of Blood and Honey.
When we caught up with the actress whose Maleficent just became her highest grossing movie, she admitted that she was looking to test herself as a helmer. "I jumped into something so much bigger, so it was daunting," Jolie said.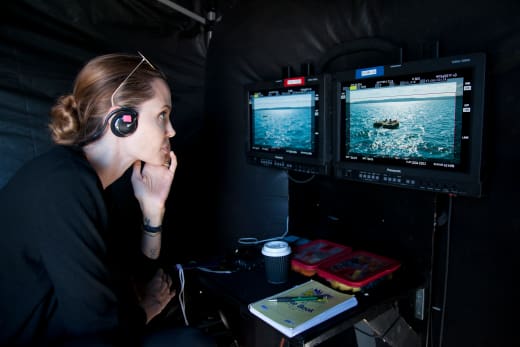 "Blood and Honey, I wrote, it was in a few rooms. There were certain things to tackle and certainly the politics of it which you balance and many, many things like that. But getting into Unbroken, [there are] two plane crashes and shark attacks and 47 days at sea and three prison camps and the 1936 Olympics and its races!"
Jolie did everything she could to be ready on each day for whatever Unbroken challenge would face her. "You wake up in the morning and you think, 'God, there's a way to do that, isn't there? There's a way to direct races.' This isn't just show up at work and cover it this way or that way. Like this is actually something I have to really understand," Jolie admitted.
The story of Louis Zamperini had to be told. In fact, it's hard to believe it took so long. Zamperini went from Olympic hero to being shot down in World War II and surviving 47 days in a raft at sea. Then, he was rescued… by the Japanese, where he would spend years in a prison camp. And yes, he emerged stronger than ever.
Each aspect required Jolie to become an expert on something she knew little about, like those Olympic scenes. "Even just staging those races, I have to really understand how they went in formation, who was where, what happened -- it was just so much more," she said.
"There were just days I didn't know if we would be able to track it all and accomplish it all. We didn't have that much money. We didn't have that much time. So, yeah, it was kind of like... it was a new scare."
One of the first to see Unbroken was actually Jolie's sons. And their reactions stunned, and impressed her. "My boys saw an early cut of Unbroken the other day and I thought they would be talking about the sharks," Jolie said.
"Instead they asked me about one of the character's deaths. And I was very surprised by that. You know, I think the depth of what children can handle and what they're really interested in is much deeper than I think people assume."
That means that Unbroken should totally be a true family experience and an important one as it appears to be a true holiday gift when it lands in theaters December 25.