At the end of 22 Jump Street, filmmakers Chris Miller and Phil Lord just kind of put it out there and by "it" we mean every possible sequel idea that could ever be. Sure, in the movie Channing Tatum and Jonah Hill comment about the building being constructed at 23 Jump Street -- a direct dig at a possible sequel headquarters for our comedic cop duo. 
But, then Lord and Miller took it a step further after the film's credits and told us what we can "expect" from every sequel to the film that gave us these fantastic 22 Jump Street quotes. And we have it below!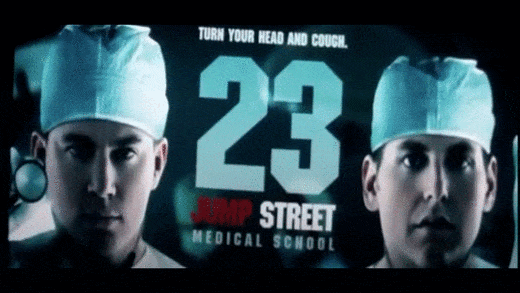 Given our love for the first film and their unforgettable 21 Jump Street quotes, we adore the idea of Hill and Tatum going to medical school for 24 Jump Street and even beauty school for 42 Jump Street: Beauty School and its tag line: "Dye Hard!" 
Be sure to watch 21 Jump Street online and witness the madcap comedy brilliance of Lord, Miller, Tatum and Hill and here's hoping we really do get 31 Jump Street: Ninja Academy!