Disneynature has truly done it again, as we stated in our theatrical Bears review. And now that natural magic is coming home as Bears is released on DVD, Blu-Ray and digital download.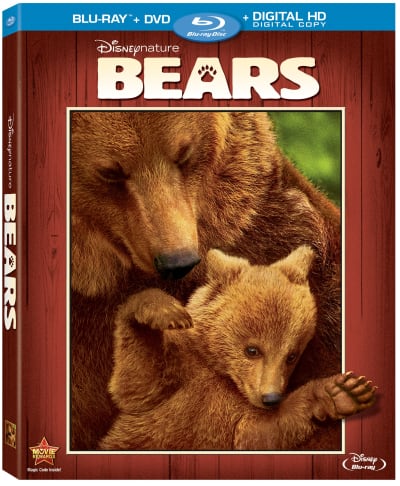 The same studio that brought us Earth and Chimpanzee has only honed their craft further in the years since those films and brought us a documentary about a mama bear and her two cubs and her incredible effort to keep them alive from their first days to when they're ready to head out into the world on their own.
John C. Reilly could not have been a better choice to narrate the nature doc. And the filmmaking team of Alastair Fothergill (Earth, African Cats and what you can see when you watch Chimpanzee online) and Keith Scholey (African Cats) has brought us a story that is equally as compelling as it is entertaining and educational.
The bonus features on the Bears DVD and Blu-Ray are incredibly rich and worthy of the repeat viewing that children will demand of their favorite home videos!
The four making-of featurettes astound, especially Welcome to Alaska which follows the filmmakers as they film mama bear and her cubs as they criss-cross the Alaskan wilderness in search of food and the numerous aspects that will contribute to their survival. It is truly astonishing to see how this film was put together. The time, the patience and the luck it takes to create a nature documentary is captured in not just Welcome to Alaska, but all four of the making-of Bears featurettes.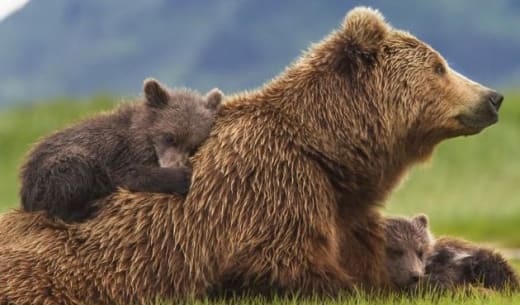 We also truly appreciated The Future For The Bears, which highlights the film's production and its most famous visitor, conservationist Jane Goodall. A Guile to Living with Bears shows how the filmmakers learned to do what they did from the experts who mentored the documentarians and largely aided them in getting on film what we have to treasure on the Bears DVD and Blu-Ray.
And How Did They Film That? takes us inside some of the most extreme shots that filmmakers captured that makes Bears one of the best, if not the best of the Disneynature docs.
Before our Bears DVD review closes, we have to shine a light on the fact that with any purchase of the title between now and August 19, Disneynature will make a donation through the Disney Worldwide Conservation Fund to the National Park Foundation.
Watch Bears online now and witness the magic.