Blended DVD Review: Can Adam Sandler & Drew Barrymore Do It Again?
by Joel D Amos at . Updated at . Comments
Adam Sandler and Drew Barrymore are back together for a third time in Blended, and the film is out now on DVD, Blu-Ray and digital download.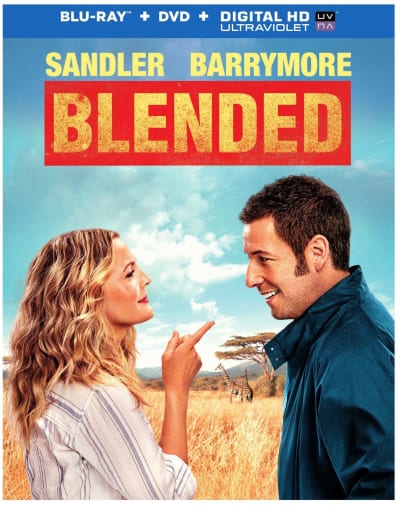 Barrymore and Sandler first found success with the rom-com that you can see when you watch The Wedding Singer online in 1988 and again in the charming 2004 effort 50 First Dates. Now they're both parents with little kids of their own, and this time out, Blended finds them playing single parents who start our movie by going on the most disastrous of first dates.
They (somehow) wind up in the same suite in a South African resort on a family vacation where the two families will "blend" and find that their matriarch and patriarch have more in common than they ever expected.
Our theatrical Blended review found the film the weakest of the three Sandler-Barrymore films, but it also is a different animal altogether. Blended is a family comedy, through and through. And as such, they firmly know their audience, and for that group of viewers, this is a pretty fun ride through a true "modern family."
When it comes to supporting players, some top-notch comedy power is well represented. Wendi McLendon-Covey (one of our 19 actors who should be bigger movie stars) is featured as Barrymore's best friend, Joel McHale is her awful ex-husband, Kevin Nealon and comedienne Jessica Lowe are impeccably cast as a couple they meet on vacation, and Terry Crews steals the entire movie as a singer at the resort.
As this is a comedy, albeit a family comedy, the best bonus features focus on that fact and many are more hysterical than some jokes in the film itself.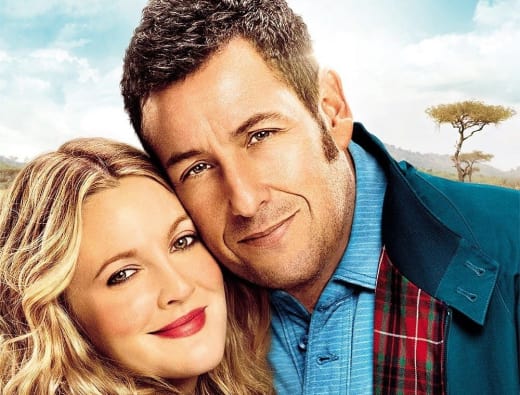 The Safari, Animals, Parasailing and Ostriches bonus features focus on the comedy effort it took to shoot those scenes and some serious hilarity does result. Watching Barrymore, Sandler and the rest of the cast try their best while shooting scenes with the most unpredictable of performers -- animals -- certainly plays into some humor with three of those four. And what isn't funny about witnessing Barrymore try her hand ineptly at parasailing!
Another hilarious feature is one entitled Dick's Costumer Service. Sandler's character works for Dick's Sporting Goods (along with a cameo making Shaq O'Neill as a co-worker and ESPN's Dan Patrick as the owner). Getting inside Dick's Sporting Goods in a comedy way is quite fun… and frankly Sandler should pursue it as a future full film!
The more "serious" bonus feature that compelled us was the Adam and Drew: Back Together Again. The doc explores the unique and surprising movie chemistry between the former SNL star and the former child star. If decades ago you had said that Sandler and Barrymore would make a great cinematic pair, it would have been a joke. But, there is no denying their chemistry and screen power.
Watch Blended online right now and we know the family will have fun.