Celebrities Tribute Robin Williams: "So Sad to Think About This"
by Joel D Amos at . Updated at . Comments
The world was stunned yesterday when we learned that Robin Williams was dead at 63. He had taken his own life and left this world. But, his memory will live on with the decades of work that he excelled at, whether making us laugh, cry or both.
Those who worked with him, and some of those who barely knew him beyond the public persona, paid tribute. And here are just a few of the thoughts shared by everyone from Meryl Streep to Ben Stiller and President Obama.
And it seems profound in hindsight, but Movie Fanatic even talked to Joel McHale about working with Williams just a few weeks ago. His honor at sharing space with the man was beyond touching.
Here is a sampling of what Hollywood had to say about this sad passing of a legend.
Meryl Streep
"It's hard to imagine unstoppable energy stopped. He was such a generous soul."
Ben Stiller (Night at the Museum co-star)
"His kindness and generosity is what I think of. How kind he was to anyone who wanted to connect with him. And he could not help but be funny all the time. He would do something as long as it would keep you laughing. He made many, many film crews laugh out loud before the audiences ever saw it. He made such a big impact on the world. So there is the man, and his talent, and I think in his case both were extraordinary."
Sally Field (Mrs. Doubtfire co-star)
"He always lit up when he was able to make people laugh, and he made them laugh his whole life long - tirelessly. He was one of a kind. There will not be another."
Chevy Chase
"Robin and I were great friends, suffering from the same little-known disease: depression. I never could have expected this ending to his life, and to ours with him. God bless him and God bless us all for his life! I cannot believe this. I am overwhelmed with grief. What a wonderful man/boy and what a tremendous talent in the most important art of any time – comedy! I loved him."
Danny DeVito
"So sad to think about this. Hard to speak. Hard to say. Hard to take. All I can think about is what a joy he was to be with. I'm devastated. I'm sending my love to his family and everyone who loved him. My heart is broken by this news."
President Barack Obama
"Robin Williams was an airman, a doctor, a genie, a nanny, a president, a professor, a bangarang Peter Pan and everything in between. But he was one of a kind. He arrived in our lives as an alien – but he ended up touching every element of the human spirit. He made us laugh. He made us cry. He gave his immeasurable talent freely and generously to those who needed it most – from our troops stationed abroad to the marginalized on our own streets. The Obama family offers our condolences to Robin's family, his friends, and everyone who found their voice and their verse thanks to Robin Williams."
John Travolta
"I've never known a sweeter, brighter, more considerate person than Robin. Robin's commitment as an artist to lifting our mood and making us happy is compared to none. He loved us all and we loved him back."
Chris Columbus (director, Mrs. Doubtfire, Nine Months, Bicentennial Man)
"We have lost one of our most inspired and gifted comic minds, as well as one of this generation's greatest actors. To watch Robin work was a magical and special privilege. His performances were unlike anything any of us had ever seen, they came from some spiritual and otherworldly place. He truly was one of the few people who deserved the title of 'genius.' We were friends for 21 years. Our children grew up together, he inspired us to spend our lives in San Francisco and I loved him like a brother. The world was a better place with Robin in it. And his beautiful legacy will live on forever."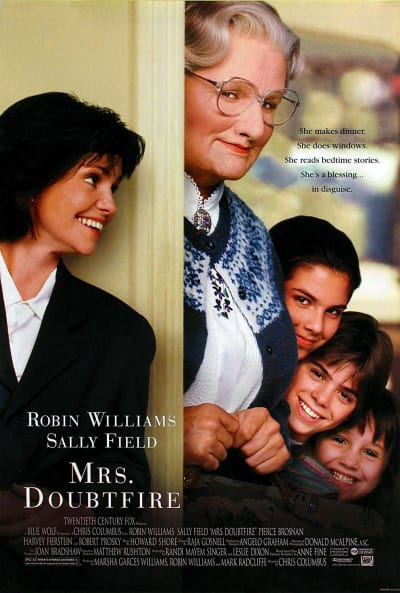 Steve Martin
"I could not be more stunned by the loss of Robin Williams, mensch, great talent, acting partner, genuine soul."
Mindy Kaling
"I am named after a character from a Robin Williams TV show when my parents still lived in Africa. He meant so much, to so many, so far away."
Glenn Close (The World According to Garp co-star)
"I am absolutely heartbroken. Robin was a national treasure and a beautiful soul."