Divergent arrives on DVD, Blu-Ray and digital download after its triumphant ($400 million gross) run in theaters. Veronica Roth's blockbuster book could not have tapped a better director in Neil Burger. And casting Shailene Woodley as our heroine, Tris, was an absolute perfect choice.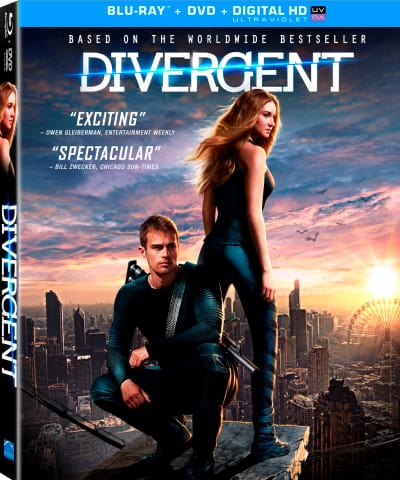 Roth's story follows a dystopian world where the citizens of Chicago live behind a walled landscape and live their life in peace by being placed in one of five virtue-based factions. Woodley's Tris is nervous on her fateful day when she will take the test and learn how she will spend the rest of her days. But, when the test is administered (by Maggie Q), it comes up inconclusive and that is the greatest threat of all to the government. She is a Divergent.
As teased in the Divergent trailer, Tris takes it upon herself to join the Dauntless faction, a group charged with keeping society safe and known for their fearless nature. Tris knows she's not supposed to be there but still triumphs and, in many ways, finds a home. But, her secret (that she's a Divergent) is ever present and she is convinced that at one point, someone will find out.
One of her teachers/coaches, Four (Theo James), has an idea that she is something special and as the film progresses, we learn whether he will be a friend or foe to this girl who could be the biggest threat or ally the government has ever seen.
The cast is impressive, as we stated in our theatrical Divergent review. Kate Winslet shines as the leader of this world, and Ashley Judd and Tony Goldwyn are brilliantly cast as Tris' parents. The film also boasts Miles Teller, Mekhi Phifer and Jai Courtney. And we would be remiss to not mention the stunning turn of Ansel Elgort (who would go on to star with Woodley in the stunning Fault of our Stars) as Tris' brother.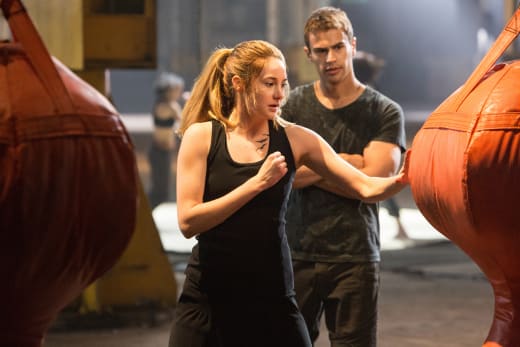 When it comes to the Divergent DVD and Blu-Ray bonus features, fans of the Roth book series should be more than thrilled. There are hours of material that explore not only the making of the movie, but also the world of Divergent itself.
We were especially taken with Faction Before Blood, which details the film's futuristic world and how Burger and his team created it. Watching Divergent, one of the most impressive aspects of this film is the production design. 
And given that Burger had such a vision for Divergent, we cannot recommend enough watching the movie a second time with his audio commentary. There is a second audio commentary track with producers Douglas Wick and Lucy Fisher that also adds color to the entire Divergent experience.
The Bringing Divergent to Life documentary is nothing short of brilliant. We think that there should be some awards established for home video "making-of" docs and Divergent's would surely do quite well! It was no easy task bringing a beloved book to life and after witnessing this making-of doc, viewers will marvel at this world with a whole new level of awe.
The deleted scenes are actually quite fascinating. As anyone knows who loves books that movies are based on, not everything can make it into the theatrical version. Witnessing scenes that Burger shot -- that didn't make the cut -- allows fans of the books to see some of their favorite scenes from Roth's book, even if they were not in the movie proper.
Watch Divergent online and check out the brilliance of this first chapter that will be followed by Insurgent on March 20, 2015 and Allegiant Part 1 on March 18, 2016 and Allegiant Part 2 on March 24, 2017.