Edge of Tomorrow DVD Release Date & Bonus Features: Revealed!
by Joel D Amos at . Updated at . Comments
Edge of Tomorrow is without a doubt the best Tom Cruise movie in years (as our Edge of Tomorrow review pointed out). And audiences agree as the film has made a smidge under $100 million so far this summer at the box office.
Now, Warner Bros. has announced plans for the film that also stars Emily Blunt to come home on DVD, Blu-Ray and digital download.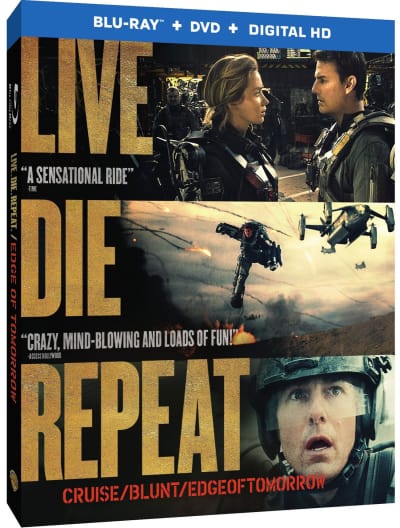 Edge of Tomorrow will land on Blu-Ray 3D combo pack, regular Blu-Ray combo pack, DVD and digital HD on October 7. The film is directed by Doug Liman (The Bourne Identity and the film you can see when you watch Mr. & Mrs. Smith online) and is based on the wildly inventive sci-fi novel All You Need Is Kill by Hiroshi Sakurazaka.
As teased in the Edge of Tomorrow trailer, Cruise plays a soldier who is forced to live, die and repeat the same day of battle over and over until he gets it right. The survival of the human race depends on it as aliens have invaded and it looks hopeless for our kind. Blunt holds the key to his success, and if they can figure out how to have Cruise not die, we might just win this war.
Warner Bros. announced the bonus features for the Edge of Tomorrow home video and they are as follows:
Operation Downfall - Adrenaline Cut
Storming The Beach
Weapons Of The Future
Creatures Not Of This World
On The Edge With Doug Liman
Deleted Scenes