Galaxy Quest arrived in 1999 and caught everyone by surprise with its pitch perfect lampoon of sci-fi movies, specifically Star Trek. And don't get us started on those awesome Galaxy Quest quotes!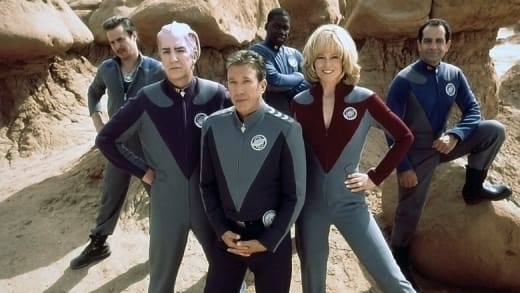 Tim Allen was very William Shatner-esque and he was the tip of the cast iceberg of talent. Joining him was Sam Rockwell, Sigourney Weaver, Alan Rickman (post-Die Hard, pre-Harry Potter) and Tony Shalhoub.
The cast recently was asked by MTV.com about the film and some surprising things came out of the conversation. For one, producer Mark Johnson recalls that the original script needed a whole lot of work to get it to the movie we adore now.
"Very few people have ever read that," Johnson said of the original screenplay. "The original concept was brilliant, but we needed someone like a Bob Gordon (the film's credited screenwriter) to take it from there."
Rockwell originally decided not to do the film that would become such a cult favorite, but a certain Oscar winner talked him into it.
"I originally turned it down. I loved the script, but I was committed to do a small movie as a lead opposite Marisa Tomei," Rockwell recalled. "But Kevin Spacey convinced me to do it. I went and saw him in The Iceman Cometh and he knew I was struggling with this decision and he said, 'I think you know what to do.'"
And the rest was history.
Since the film debuted 15 years ago, anyone involved has been pestered with questions about a possible Galaxy Quest sequel. Allen has an idea for one that would work.
"How's this for a sequel? It's 15 years later. The Thermians come back, but they haven't aged. Maybe they don't have warp anymore so it took 15 years," Allen said. "They have to search for a new homeland. Sarris [the main villain] is gone but his family never forgets and you take it from there."
Johnson doesn't want to burst the cast's and especially Allen's bubble, but admits that a sequel is probably not gonna happen. 
"If we announced a sequel or a TV show, there'd be genuine excitement, not 'It's too late.' We've tried. I'd do it, Dean would do it. But we need Bob. It's a Bob Gordon joint, but Bob is a very specific guy."
Check out what all the excitement is about and watch Galaxy Quest online. 
The flick is one of our favorite spoofs -- vote for your favorite in the poll below!