Guardians of the Galaxy Breaks August Record: Weekend Box Office Report
by Joel D Amos at . Updated at . Comments
Audiences were more than Hooked on a Feelin' with Marvel Studio's latest as Guardians of the Galaxy exploded on the weekend box office and broke the August record for a film debut. James Gunn's Guardians of the Galaxy banked just over $94 million in its first weekend, easily breaking The Bourne Ultimatum's $69 million bow in 2007.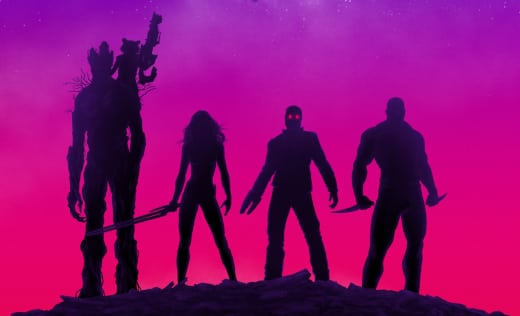 Second place belonged to last week's top film, Luc Besson's Lucy. The Scarlett Johansson action flick added another $18.3 million to its impressive first week haul to bring its cume to $79.6 million.
Third place was the other new movie that had the pleasure of opening against Guardians of the Galaxy, Get On Up. The James Brown biopic banked $14 million in its first week of release. And that is not a bad take, as biopics go.
Fourth found Dwayne Johnson's Hercules, which looks like it will not be getting the sequel that the studio thought it would. Its $10.7 million second week earnings put it at $52.3 million for its two weeks of release.
Closing out the top five was Dawn of the Planet of the Apes. The former two-week-in-a-row top film stayed in the top half of the box office top 10 with an $8.7 million take. In four weeks, Dawn of the Planet of the Apes has earned $189 million.
Box office top 10:
1. Guardians of the Galaxy, $94 million
2. Lucy, $18.3 million
3. Get On Up, $14 million
4. Hercules, $10.7 million
5. Dawn of the Planet of the Apes, $8.7 million
6. Planes: Fire & Rescue, $6.4 million
7. The Purge: Anarchy, $5.6 million
8. Sex Tape, $3.6 million
9. And So It Goes, $3.3 million
10. A Most Wanted Man, $3.3 million