One of the many things we lauded in our Guardians of the Galaxy review was director James Gunn's choices for his soundtrack. The songs were essentially songs that were found on the "Awesome Mix Tape Vol. 1" that his Peter Quill's late mother had given him before he was abducted and taken into space.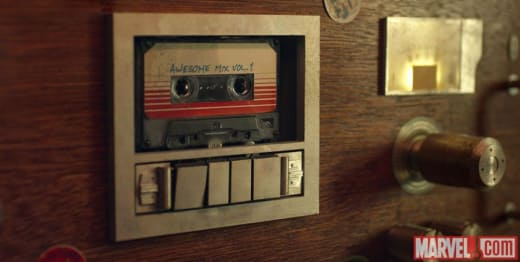 By presenting those songs as a soundtrack to the action, Gunn effectively brought us into the emotional journey of Quill, aka Star Lord, and also gave us some fantastic tunes. If nothing else, Quill's mom had great taste in music.
Well, clearly everyone that made Guardians of the Galaxy a record breaking hit agrees. The Guardians of the Galaxy soundtrack has topped the Billboard charts and achieved a first for a film. It's the first movie to score the top spot on the music charts without having a single new song on it!
As soon as we saw that Guardians of the Galaxy soundtrack track list, we had a feeling audiences would respond. But, never in a million years did we think that the soundtrack would be a number one record! Kudos to everyone involved!