Superhero Report has posted a Twitpic that has us thinking that The Flash will be in Batman v Superman: Dawn of Justice. Given the title, we all know that the Man of Steel sequel is more of a set-up for a Justice League movie than a true follow-up to the film that introduced us to Henry Cavill as Superman.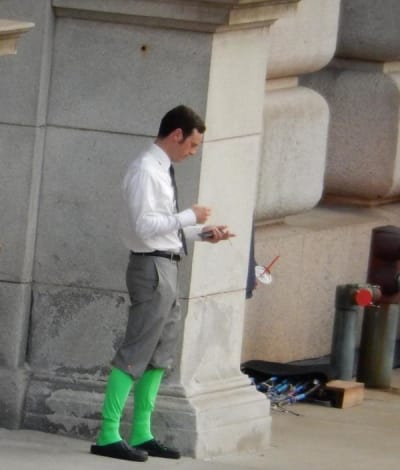 We know that Cavill's Superman is joined by Ben Affleck as Batman, Gal Gadot as Wonder Woman, Ray Fisher as Cyborg and a serious rumor that Jason Momoa is Aquaman. We also believe that a Green Lantern will appear. And now, we believe, we have The Flash.
The above photo is of Scoot McNairy, and yes, it appears he is in a regular business suit. But, what are those green-screen looking socks? Honestly, those are for adding in a computer-generated graphic later… such as feet running very fast!
Warner Bros. announced Batman v Superman: Dawn of Justice is just the beginning and they have reserved dates well into the future for a slew of superhero tales. It's safe to say that The Flash will be one of those.
If McNairy is The Flash, it is fantastic news. He is a terrific actor, and we treasured his work in Argo (also with Affleck!).
We'll keep you posted as these things develop, and while we wait for the March 26, 2016 release date of Batman v Superman: Dawn of Justice, watch Man of Steel online to be all sorts of ready!