Josh Brolin Talks Being Thanos: When Will We See the Baddie Next?
by Joel D Amos at . Updated at . Comments
For Josh Brolin to be Thanos, to get ready to play the biggest bad guy in the Marvel universe, Brolin reported that the Marvel Studio gave him more information than was humanly possible to digest so quickly, but he loved it. In fact, his next film faded into the background!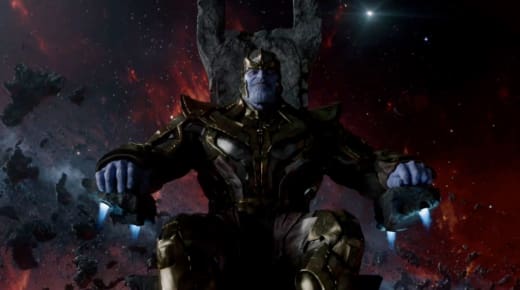 "They sent me so much frickin' research -- I was in the middle of doing Everest, and I was focusing more on Thanos than I was on Everest," Brolin told IGN. "But it's an exciting prospect, truly."
We saw a grimace from Thanos at the end of The Avengers, and he's in Guardians of the Galaxy for a bit more of a stretch (oh Ronan, what were you thinking?!). Brolin promises much, much more of Thanos in future films. "I know what one appearance is going to be for sure," Brolin said of The Avengers 3, we're betting. "There's one or two that I don't know."
What most fascinated Brolin with his character is that he is much deeper than most iconic villains. There is more than one layer to this guy. "His relationship with Death, who is actually the woman, I love that. You can take Sin City and pump it full of steroids, and then you have Thanos," Brolin admitted.
"I like that he's motivated by that -- not just motivated by destruction or death or this or that. He's motivated by a very identifiable, human trait."
As we reported in our Avengers: Age of Ultron Comic-Con recap, Brolin surprised the audience and appeared onstage, complete with Thanos' fist on his right hand! When Robert Downey Jr. gave him a rose, he promptly ate it. Brolin said that in that moment, he got what the dynamic was more than any other time between him and those pesky Avengers.
"Not that I'm ever 100-percent sure, but we had constructed this small thing, Kevin Feige and I and Robert, and going on-stage at Comic-Con. Then it became something else. Once I got on-stage, it sort of became its own improv," Brolin admitted.
"I knew at that point, because I saw the rivalry between Robert and I, and I thought, 'I get this. I suddenly really get it.' So I feel like I'm more inside it than I was. It was more a display to me before that. It was more cosmetic. Now I think I'm starting to get who the guy is a little bit."
Check out that Thanos moment we mentioned earlier and watch The Avengers online.