Maleficent DVD Release Date, Bonus Features: Announced!
by Joel D Amos at . Updated at . Comments
Maleficent just crossed the $700 million box office mark and clearly there are millions of people who are just a little enamored of the idea of Angelina Jolie as the villain from Sleeping Beauty. Those fans will be thrilled to hear that Disney has announced its plans to bring Maleficent home on DVD, Blu-Ray and digital HD.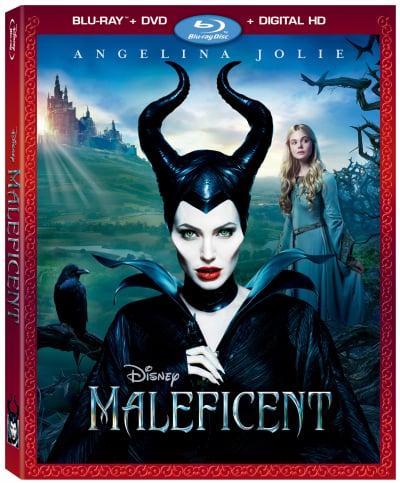 Jolie's origins story on the Sleeping Beauty villain lands on home video November 4 and brings along hours of bonus features that take viewers on an in-depth journey of Maleficent and her rise from magical child to curse-wielding and love-spurned woman.
As you can tell from our Maleficent review, we were just slightly crazy about the film and could not be more excited that the flick has become Jolie's highest grossing movie of her career. She was born to be Maleficent and she commands this film on every frame.
The cast and crew of Maleficent explore how the classic Sleeping Beauty yarn was re-imagined as a live-action spectacle in From Fairy Tale to Feature Film, the bonus feature that immediately tops our list of must-sees on the Maleficent DVD and Blu-Ray.
Look for the following bonus features that will make this home video release a holiday must-own when it lands November 4.
From Fairy Tale to Feature Film - Reimagining Maleficent for a new generation
Building An Epic Battle -- Creating the clash between Maleficent and King Henry's Forces
Classic Couture -- Examine Maleficent's spellbinding head wraps and jewelry
Maleficent Revealed - Explore the layers of extraordinary special effects
Aurora: Becoming A Beauty -- Elle Fanning reveals her lifelong love of Disney's original animated classic
Deleted Scenes: Stefan In King's Chamber, Pixie Idiots, Diaval asks about the Curse, Pixies Seek Asylum, Suitor
….and Disney has promised even more bonus features when Maleficent comes home!