Muppets Most Wanted DVD Review: They're Doing a Sequel!
by Joel D Amos at . Updated at . Comments
Muppets Most Wanted had the brilliant idea to begin its sequel with a song, We're Doing a Sequel. And the flick only gets better from there.
Muppets Most Wanted is out now on DVD, Blu-Ray and digital download and it is both hilarious and heartwarming and a must-own for any Muppets fan.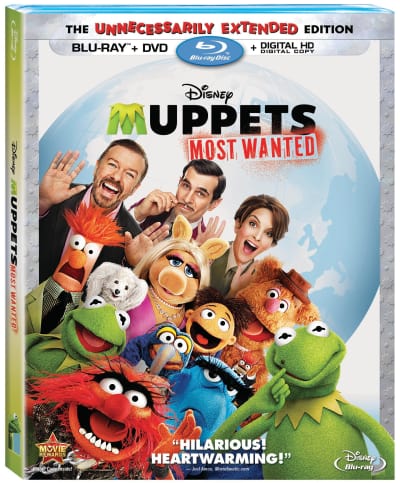 The Unnecessarily Extended Edition of Muppets Most Wanted contains hours of bonus footage and, of course, the super fun film as well.
Jason Segel and Amy Adams are nowhere to be found reprising their roles from The Muppets, and we hate to say it, but they aren't really missed.
Ty Burrell, Tina Fey and Ricky Gervais are our human stars, along with a bevy of cameos from Christoph Waltz to Tom Hiddleston.
As teased in the Muppets Most Wanted trailer, the Muppets gang finishes the first movie, starts this flick with the aforementioned song and then signs with an agent who promises that they are needed in Europe for the start of a world tour. Oh, and that agent -- that's Gervais and he's kind of our bad guy. But, not the big baddie, that's a Kermit the Frog doppelganger who goes by the name of Constantine -- and he's one of the world's most notorious crooks.
His plan is simple. Get the Muppets to Europe, kidnap Kermit, switch places with him and tour Europe getting ready for the biggest heist of all – stealing the Crown Jewels in London!
When we first heard of this doppelganger idea, we were not that impressed. But, as you can tell by our theatrical Muppets Most Wanted review, it works brilliantly. What director James Bobin (who also co-wrote the film with the first film's scribe Nicholas Stoller) has given us is a musical adventure that is also a heist film and one that never forgets to be an all-out hilarious family film too.
The Muppets Most Wanted DVD and Blu-Ray is surely going to be (sorry to say, parents) one of those home video releases that the kids are going to want to see over and over again. And you know what? The adults won't mind because every time you see it, you notice something else brilliant about it.
When it comes to the bonus features on the home video release, we have to start by recommending that you watch the Unnecessarily Extended Cut of the film itself. Don't even bother with the theatrical version! There are so many fantastic moments in the "Extended Cut" that you might as well just start with that.
We also have to salute The Longer Longest Blooper Reel in Muppets History bonus feature. For fans of the blooper reel bonus feature that hundreds of comedies have used before, the title says it all. Just when you think they've excised all the laughs from you, they keep going and going and going. And yes, the laughs keep coming too.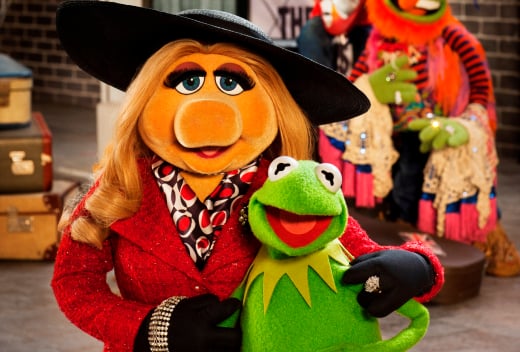 And one of the great tracks on the soundtrack, written by Oscar winner Bret McKenzie, is when Constantine sings I'll Get You What You Want to Miss Piggy, convincing her that he's Kermit, even though she was not so sure. It's a fantastic song that might we suggest Disney submit for Best Song consideration at this year's Oscars? It would make a nice bookend to McKenzie's first Oscar for the first film's Man or Muppet.
Lastly, another fantastic track from the film is performed in a song and dance fest by Gervais and Constantine, I'm Number One. And the inclusion of the Frog-E-Oke (like karaoke, but for singing frogs) of the track is pure brilliance. Kind of like the entire package itself!
Watch Muppets Most Wanted online now and witness the Muppet magic!