It is no easy task to take a wildly popular video game and bring it to the big screen as Scott Waugh has done with Need for Speed.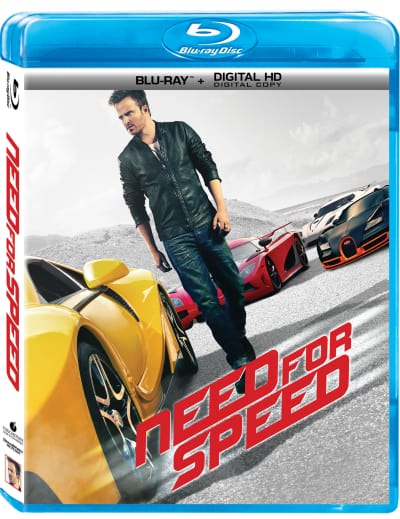 The racing game becomes a race to the finish movie with a director whose experience as a stunt man has more than prepared him to give audiences something they've never seen before. And now with Need for Speed out on DVD, Blu-Ray and digital download, prepare to fulfill that need -- that Need for Speed!
As teased in the Need for Speed trailer, it is easy to see that this is a car racing film unlike any other in terms of its use of practical stunts for the action-packed scenes. That is the big draw, and it is not necessarily the storyline itself -- although that is not so bad.
Aaron Paul stars as a former NASCAR driver who now toils as the owner of his family auto mechanic shop and is also a part-time illegal street racer. He's got quite a team around him (including Scott Mescudi, aka Kid Cudi!) and things are going well. Then, an old rival (Dominic Cooper) shows up and makes him an offer he can't refuse: help rebuild a car and bank $250,000.
When challenged to a race by Cooper, Paul and another buddy hop in three cars and take off like bats out of hell. When the buddy dies, Cooper takes off and Paul is charged with manslaughter and spends several years in jail. When he gets out, he has revenge on the brain. He must drive across the country to race Cooper once again without getting caught along the way for violating his parole.
As our theatrical Need for Speed review stated, the plot is a bit convoluted, but that is not the draw here. The racing scenes are unbelievable. And Paul truly announces himself as a movie star after his star-making turn on TV in Breaking Bad. And Cooper makes one deliciously devilish bad guy!
Given the focus of the film is the action and the car racing sequences orchestrated by Waugh and his team of fellow stunt people, the bonus features that focus on that aspect are the highlight of the Need for Speed DVD and Blu-Ray.
Capturing Speed: Making An Authentic Car Movie might be more compelling than the movie itself. How Waugh and his team achieved the Need for Speed experience is nothing short of an effort that should be saluted to the ends of the earth.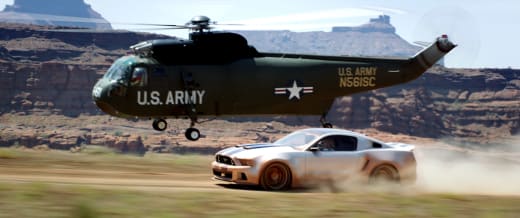 What is clear in this bonus feature is how passionate the entire crew is to make something truly special and not just have this be a pedantic video game turned movie experience for the audience. They saw this as an opportunity to push the envelope of the car racing movie and did that and then some.
Also, the audio commentary from Waugh and Paul is not to be missed as it's fascinating to witness the final product with insight from the director and his star -- who had to go to car racing school so he could be behind the wheel for much of those action sequences!
A great car racing movie is known as much for its speed scenes as it is for those explosive car crashes. And with B-Camera, viewers get a crash compilation video from the film that is supremely awesome. Toss in the audio commentary on B-Camera from Waugh and this bonus feature is an utter delight.
Given that this is a film based on a wildly popular video game, lastly, don't miss the Need for Speed Rivals trailer for a preview of what's to come!
Watch Need for Speed online and prepare to witness car racing like never before.