Original, Unaltered Star Wars Trilogy To Be Released on Blu-Ray!
by Joel D Amos at . Updated at . Comments
In news that has to be right up there with the announcement that a new Star Wars is coming our way, we've learned that the original Star Wars trilogy will be arriving on Blu-Ray. And we're not talking the George Lucas updated/altered/adjusted/revisited versions. These are the three movies that first landed in theaters in 1977, 1980 and 1983!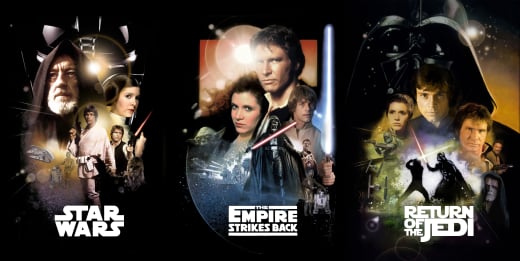 Sure, we've got the Star Wars Blu-Ray for the versions that Lucas tinkered with. But, there has always been a huge demand for the versions that were presented to audiences as is. And now, folks, they're coming.
Since Disney bought Lucasfilm, fans have wondered how long it would be until the Mouse House went back to the original edits of Star Wars Episode IV: A New Hope, Star Wars Episode V: The Empire Strikes Back and Star Wars Episode VI: Return of the Jedi and released them untouched by a revisionist Lucas on Blu-Ray.
Now, we have word that the studio will in fact be doing just that, but that there have been some issues with damage to the original film print that the experts at Disney will restore, but it may take a little time.
But, the good news is that we can expect the set to arrive in stores and online before the release date of December 18, 2015 for Star Wars: Episode VII.
That will be a merry, merry Christmas indeed!