Robin Williams Has Four Films Still to Come: Night at the Museum 3 & More!
by Joel D Amos at . Updated at . Comments
When Robin Williams died last week, he left us a legacy of fantastic work that can be seen in dozens of films. We presented our 18 favorite Robin Williams films, and who knows if the four he still has coming out will join that list, but now we know a bit more about them.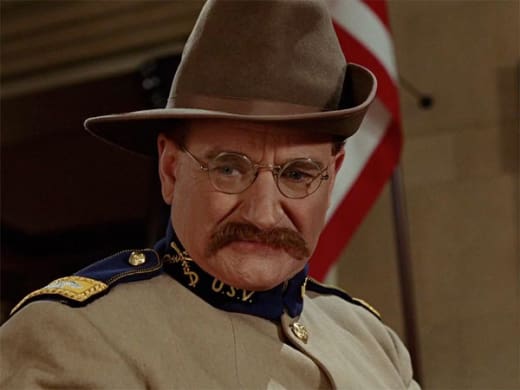 We premiered a Merry Friggin' Christmas clip last week -- that will be the first film left by Williams when it lands on November 7. The dark comedy also stars Joel McHale as Williams' son which takes a somewhat deeper look at the family dynamic that happens during the holidays.
Next up for Williams is what we saw teased in this Night at the Museum: Secret of the Tomb trailer. The third Night at the Museum movie features Williams back as Teddy Roosevelt opposite Ben Stiller as the museum guard we love to watch get into mayhem. Look for it December 19.
Then there are two other movies that Williams worked on that have yet to find distribution, but both are expected to land in theaters sometime in 2015.
Absolutely Anything is a sci-fi animated comedy that was helmed by former Monty Python member Terry Jones. The film tells the story of a teacher who gets superpowers from visiting aliens. Williams is Dennis, the teacher's pet (he is literally a pet, Williams plays a dog!).
Then, there's Boulevard, the drama that features Williams as a man in a loveless marriage who becomes friends with a street hustler to find a new spice in life.
We miss his talent immensely -- he was a true international treasure. But, Williams lives on with his work and we also treasure our favorite Williams movie quotes. Check them out in the slideshow below!