Sin City A Dame to Kill For Review: Sinful, And Not in a Good Way
by Joel D Amos at . Updated at . Comments
It may have taken nine years to follow up Sin City, but Robert Rodriguez and Frank Miller are back at it again with Sin City: A Dame to Kill For and it does have several things going for it.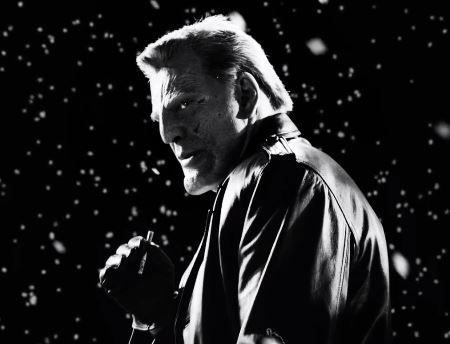 The cast is clearly much more comfortable acting in a green screen environment than they were for the first one. And the technology to create a world that completely doesn't exist except in the mind of a graphic novel artist and a supremely talented filmmaker has finally caught up with their collective imaginations.
But, unfortunately, that is about all that Sin City: A Dame to Kill For has going for it.
It had some serious potential with several of its storylines that are new to the series. First the Joseph Gordon Levitt part is utterly compelling, and with actors as fine as Levitt and his Sin City foe (played by Powers Boothe) going at it, it's not just a visual joy to watch, but it is a solid good time. Levitt nails it as Johnny and Boothe is back for an expanded role as Senator Roark.
Then, there's Eva Green's Ava and her complicated entanglement with Josh Brolin's Dwight. Brolin scores with his razor sharp capturing of what perfect acting in the Miller-Rodriguez world is and Green is probably the best thing about the movie (again -- she also was in 300: Rise of an Empire). 
But, Green is the sole true headline in a film that is overly complicated, muddled and more interested in style than substance. This is a speeding car with a flat tire.
Bruce Willis is back (briefly), as is Rosario Dawson in an underused role. And Mickey Rourke is clearly having a blast. It's truly impossible to imagine anyone else other than him portraying Marv. It's hard to tell where Marv stops and Rourke begins, which is high praise for someone doing what he can with a story where he's the thread that, in a lot of ways, holds it all together.
Then there's Jessica Alba's Nancy,  who after nine years is still harboring sorrow for her lost love (Willis) that is a little hard to buy.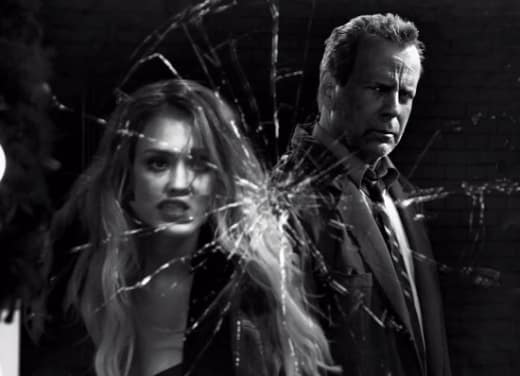 The action is compelling. The visual style is a marvel. Rodriguez has grown as a filmmaker, and with Miller as co-director the movie feels ripped right out of his graphic novels -- as can even be seen in the Sin City: A Dame to Kill For trailer.
But we're afraid that Miller's plots don't intertwine quite right. Some films that have multiple storylines can come together like the most beautiful of spider webs by the time the credits roll. This second Sin City is more of a disjointed mess with pieces of storyline simply flailing in the air, completely left unattended and unfulfilled.
Our Sin City: A Dame to Kill For review has to say that one doesn't really go to a Sin City movie to be moved by plot or intricate storylines. There's the violence. There are guys and girls being sinful. But we never expected a full movie awash in sins of wasted moviemaking opportunities. 
If you're a fan, you'd be much better off taking a moment to watch Sin City online for a much better Sin-ful experience.