Teenage Mutant Ninja Turtles 2 Is A Go: Release Date Announced!
by Joel D Amos at . Updated at . Comments
Well, that did not take long! Fresh off Teenage Mutant Ninja Turtles winning the box office, Paramount has announced plans for Teenage Mutant Ninja Turtles 2. We guess that making $65 million in your first weekend and scoring the fourth highest August debut of all time gives you that right!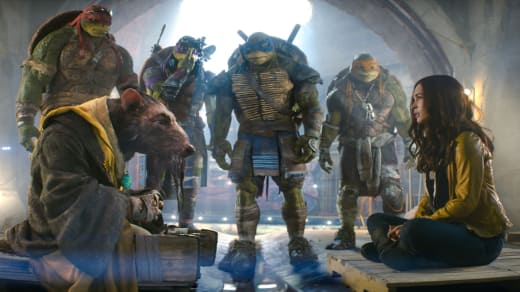 Look for the second Teenage Mutant Ninja Turtles movie on June 3, 2016 with writers Josh Applebaum and Andrew Nemec back on board, as well as producers Andrew Form and Brad Fuller. There is no word whether the first film's director -- Jonathan Liebesman -- will return, although we doubt that he will be replaced.
With decades of comics to choose from, there are any number of avenues to go down with a sequel and we're sure that all those involved in the rebooting of the franchise already know where they want their four martial arts, mutated turtle teenagers to go in the future.
Adam Goodman, President of Paramount's Film Group, said that bringing the turtles back was a challenge, but now that they have succeeded, look for more.
"Launching a new take on the Turtles into the feature film world was a daunting task because as fans of them ourselves, we felt a great responsibility to ensure audiences were going to experience everything they loved about the Turtles, while also getting to see them brought to life in a way they had never been seen before," Goodman said.
"The result exceeded our high expectations and the response to the film is beyond great, making it all the more fun to get started on the continuation of their story."
Stay tuned for more! And until then, click through and enjoy our favorite Teenage Mutant Ninja Turtles quotes in the slideshow below.