Teenage Mutant Ninja Turtles Beats Up The Expendables 3: Weekend Box Office Report
by Joel D Amos at . Updated at . Comments
Although three new films landed in theaters, and several of them pretty high profile, the top two spots at the box office remained the same as last week.
Teenage Mutant Ninja Turtles repeated as the top film with $28.4 million in ticket sales, followed by Guardians of the Galaxy -- that came in second (again) with $24.7 million.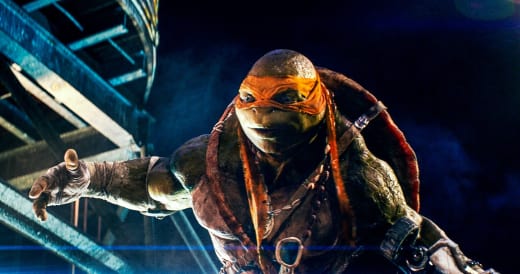 The hit film with those Teenage Mutant Ninja Turtles quotes spent its second week atop the box office charts which brought its two week total over the coveted $100 million mark to $117.6 million.
Meanwhile, Guardians of the Galaxy went over the $200 million mark with its total of $222.2 million.
Third place found the first of the new movies to arrive in theaters this week, and surprisingly it was not The Expendables 3.
The comedy Let's Be Cops, starring Jake Johnson and Damon Wayans Jr., banked $17.7 million in the weekend frame. If you toss in the earnings Let's Be Cops banked since it opened Tuesday night, the Fox film has earned a total of $26.1 million.
Landing in fourth place, and disappointingly so, was the third The Expendables film. Even with the additions of superstars Harrison Ford, Mel Gibson, Antonio Banderas and Wesley Snipes, The Expendables 3 finished fourth with $16.2 million.
Closing out the top five was the last new movie of the week, The Giver. The Jeff Bridges, Meryl Streep starring book adaptation scored a first week take of $12.8 million.
Box office top 10:
1. Teenage Mutant Ninja Turtles, $28.4 million
2. Guardians of the Galaxy, $24.7 million
3. Let's Be Cops, $17.7 million
4. The Expendables 3, $16.2 million
5. The Giver, $12.8 million
6. Into the Storm, $7.7 million
7. The Hundred-Foot Journey, $7.1 million
8. Lucy, $5.3 million
9. Step Up: All In, $2.7 million
10. Boyhood, $2.2 million