Teenage Mutant Ninja Turtles Bumps Marvel: Weekend Box Office Report
by Joel D Amos at . Updated at . Comments
Judging by how Guardians of the Galaxy had set records throughout the week, one would think that it would have had an easy time repeating as weekend box office champ. You, in fact, would be wrong because those pesky turtles triumphed as Teenage Mutant Ninja Turtles debuted with the fourth biggest August debut ever and scored first place with $65 million.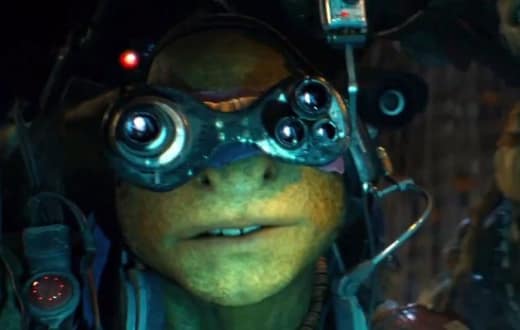 The film scored a $65 million debut -- despite some downright awful reviews (check out our Teenage Mutant Ninja Turtles review).
Pundits were shocked that so many people still turned out in droves to give those four fighting turtles (who ironically were created as a parody to those Marvel superheroes) a fantastic opening weekend.
With those fantastic Guardians of the Galaxy quotes keeping people coming, the film continued its strong run. The Marvel movie finished second with $41.5 million to bring its two week total to $175.9 million, virtually guaranteeing that we may see the summer of 2014 finish without a single film passing the $300 million mark in domestic gross.
Third place found the Warner Bros. disaster flick, Into the Storm. The Sarah Wayne Callies-starring, special effects-heavy actioner debuted with $18 million, with fourth place belonging to The Hundred-Foot Journey from DreamWorks. The Helen Mirren-starring charming flick took in $11.1 million in its debut weekend.
Closing out the top five with another $9.3 million to add to its impressive haul of $97.4 million was the Scarlett Johansson-starring Lucy.
And landing in sixth place with $6.6 million was Step Up: All In, which had to be disappointed in its first week numbers.
Box office Top 10:
1. Teenage Mutant Ninja Turtles, $65 million
2. Guardians of the Galaxy, $41.5 million
3. Into the Storm, $18 million
4. The Hundred-Foot Journey, $11.1 million
5. Lucy, $9.3 million
6. Step Up: All In, $6.6 million
7. Hercules, $5.7 million
8. Get on Up, $5 million
9. Dawn of the Planet of the Apes, $4.4 million
10. Planes: Fire & Rescue, $2.4 million