The Giver: Katie Holmes On Being Different Kind of Mother
by Joel D Amos at . Updated at . Comments
In case you have not noticed, Katie Holmes does not take on too many film roles. A movie has to truly say something to her and mean something for her to take the time away from raising her daughter with Tom Cruise, Suri. So, as a fan of the book The Giver, the opportunity to be a part of it was a no-brainer.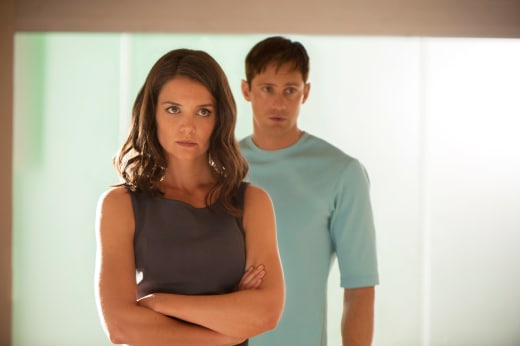 "I think what I love so much about this film and this book is you really get to see this extreme world where you have no pain, you have no emotion -- everything is routine and very safe and controlled," Holmes told Movie Fanatic.
As teased in The Giver trailer, Holmes plays the mother of Brenton Thwaites' character, Jonah. He is selected by his dystopian society to be the receiver of memories from the title character, played by Jeff Bridges. When his world opens up and he witnesses (and feels!) everything that the human condition is capable of, he doesn't take it very well and it threatens this entire world run by Meryl Streep's Chief Elder.
"And then you get to see this character have these adventures and these human moments and first love but also war. And when you watch the film, you can really for yourself see both sides," Holmes admitted.
Holmes appreciated the test of having to straddle two worlds, through a member of the ruling class of this society, but also as a mother to a soul who is by nature challenging it. "It was a great challenge to play this character because she's kind of part of both worlds. She's the mother of this person who is going through this adventurous time."
The Giver stars not only Streep, but Oscar winner Jeff Bridges, and is directed by the supremely talented Phillip Noyce, based on the Newbery Award-winning book by Lois Lowry. "The book is so beloved and to be a part of this project with Jeff and Meryl Streep and all of these amazing actors was pure delight. And to work with Phillip was wonderful," Holmes said.
"I think that one of the draws of doing this project was this book. And the reason why I think it's so beloved by so many and why schools have it on their reading list is because of these powerful themes-- having children really decide for themselves what they think is important and that free choice. So I'm very happy to be a part of the film adaptation of this."
And given that this world is emotionless (everyone takes a daily injection that suppresses emotions, and even colors!), Holmes saw it as an interesting thing for any actor to go through. "It was interesting to play this character because this world, there is no emotion, there is no pain. And so for an actor, you're always trying to emote but you can't, so it was interesting," Holmes said.
"And playing Brenton's mom and having him have these experiences that were so foreign to my character, and also being the guardian of the rules of this world was really interesting and quite a challenge. But mostly it was just an honor to be a part of something that I think is a very valuable piece of work."
Check out one of Holmes' bigger roles and watch Batman Begins online.